Cordoba city Spring Feria
By Fiona Flores Watson.
Cordoba Spring Feria Dates 2023
20th to 27th May 2023

(Confirmed by the Town Hall) 
The Cordoba Spring Fair, or Feria de Nuestra Señora de la Salud (Our Lady of the Health), takes place during the last week of May. Its venue is the municipal fairground on the north bank of the River Guadalquivir, a few kilometres to the south-east of the city. The recinto is called El Real de Arenal, which means the sandy area. This Feria dates from 1284, as a livestock market on Pentecost Sunday. it is one of the oldest in Andalucia. The fair's date used to vary from year to year, since 1890 it has been the last week in May.
It is similar to the Seville Feria, with small tents called casetas where people gather to eat, drink and dance, but much smaller - about a tenth of the size (to give you an idea, Seville has about 1050 casetas, while Cordoba has 120 and only 87 in 2022)
.
Like Seville, it has a magnificent portada, or entrance, but Cordoba's remains the same every year rather than having a brand-new themed one, as in the Andalucian capital. The portada of the Cordoba Feria is vast, 140 metres wide, with a 45m-tall main central tower, two smaller ones at either end, two main arches one either side of the main tower, and a multitude of Mezquita-style red-and-white striped double arches. The portada is lit with 60.000 lights.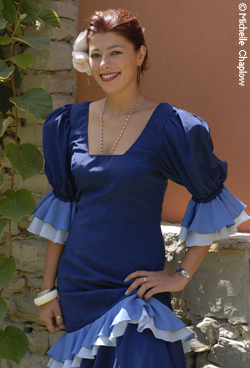 Cordoba Spring Fair
The most important difference from Seville's Feria is that all the casetas (for now, anyway) have to be open to the public - in other words, anyone is free to go in and buy a drink, order a tapa, and strut their Sevillanas on the dance floor, without having to know someone personally, and have a formal (verbal) invitation. Opening hours are from 13.00 all the way through to 05.00 (06.00 at weekends).
The acts in honor of the Virgen de la Salud will be on 21 May 2022. At 13.00 the journey will begin from her hermitage, located in the cemetery of La Salud. The parade to Arenal fair ground follows this route each year: Custodios Avenue, Ronda de Isasa, Miraflores Bridge, Miraflores Park, Arenal Bridge and fairgrounds. The arrival at the Municipal Caseta is scheduled for 14.00. The saints day is 25 May each year.
Location
El Arenal recinto ferial (fair ground), Calle de El Infierno. On bank north bank of Rivver Guadalquivir near Puente El Arenal (bridge) on Avenda Campo de la Verdad.
Destinations