Flamenco
Flamenco is a passionate and seductive art form, a mysterious and misunderstood culture that has been burning in Andalucía for nearly five hundred years, and today flamenco has thousands of aficionado's worldwide.
The common image of Andalucía is one of colour, romance, and passion, and the lone figure of the matador in the bullring, cape and sword in hand beneath the burning afternoon sun, and the equally gypsy art of flamenco seem to somehow go hand in hand.
Andalucía has a reputation for fiestas and celebrations that are overflowing with music and dance, women in colourful gypsy style dresses, silk shawls, and hand painted fans in an array of dazzling designs. The old men, faces scorched and cracked like the bark of an olive tree, their fraying straw hats an emblem of their past, and the courting couples dancing the most dramatic sevillanas are symbolic of life in this wonderful part of southern Spain.
Flamenco has been shrouded in mystery for many years, and it has only in recent years become known to, but not fully understood by, the rest of the world.
You can see shows all over Andalucía, especially on the Costa del Sol, where there are flamenco Tablaos in abundance, these though rarely show the true flamenco.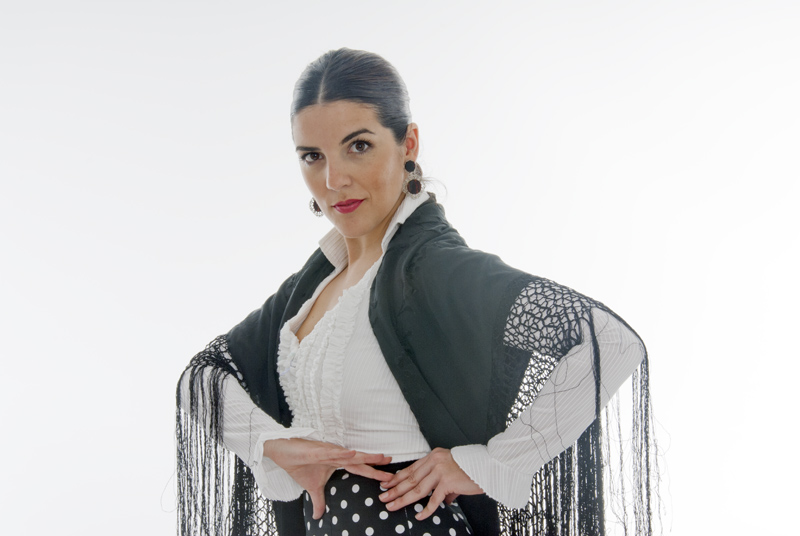 Most people will not see a connection between these glossy theatrical shows that are misleadingly labelled authentic gypsy flamenco, and cante jondo, a song form deeply rooted in the tradition of flamenco, and born in small Spanish villages, such as Lebrija and Utrera; there is, indeed, little connection, but both are named flamenco.
There is a huge difference between cante jondo and the flamenco performed in the tablaos and commercial venues of today.
Flamenco is presented in many different varieties, and the colourful polka-dot dresses, castanets, and mellow tones of the acoustic guitar have become emblematic of Andalucía, but these do not represent the authentic side of flamenco.
Castanets are not part of true flamenco, they are an element that has been added to enhance the finger snapping.
Many artistes and writers have told stories of this near tropical paradise, its mysterious beauty, steeped in romance and folklore, and of the strange music and dances that have long been performed here.
Stories abound of the hazardous mountain landscape, where murderous highwaymen and bandits would kill their victims for the smallest sums of money, some of whom would become the stuff of legends, glorified by the romantic writers of the time.
But to most people who visit Andalucía, to witness a flamenco performance is an absolute must, and the most sought-after tourist souvenirs are flamenco dolls and fans, plastic bulls and matadors, in fact anything that is connected to this fabulous art form.
For hundreds of years writers from all corners of the world have told of the gypsies and their colourful lively music and dance, and of the duende or spirit that seems to accompany it. But what is flamenco, is it the music of the gypsies?
Andalucía has always been a very musical land, and the Moors that occupied Andalucía for nearly eight hundred years, have contributed greatly to its unique music and exotic dances.
Andalucía is a land where strange ritual celebrations occur during the Easter week, when scenes of the Passion parade through the streets, trumpets blaring, drums and cymbals crashing, and people casting themselves before the pasos, sobbing uncontrollably.
It is a land of fiestas and celebration, where one week of the year, every town has its feria. Another week of dressing up in traditional costume to parade the streets during daylight, and to party at the fair into the dark hours.
Andalucia is also a land where music and dance is just part of everyday life, and the Andalucians express themselves beautifully with the dance, and especially with the flamenco dance.
Andalucía is a place that burns with life, colour, and romance. It is a place of music and dancing, of plucked guitar strings, and the snapping of fingers, clicking castanets, and the stamping of feet, all of which mould together to create this wonderful culture we know as flamenco.
Granada Flamenco Show in Albaicin with Optional Dinner
Granada Flamenco Show in Albaicin with Optional Dinner
Venta El Gallo is located in the Sacromonte caves, cradle of flamenco art. Declared intangible cultural heritage by UNESCO, the Flemish transmitting the rhythm of the guitar, singing and dancing, where the viewer lives and feels the exciting world of flamenco. The Venta El Gallo with its superb location overlooking the Alhambra in Granada, Andalusian cuisine and offers quality flamenco shows.

Tablao Flamenco Puro Arte in Jerez
Tablao Flamenco Puro Arte in Jerez
The duration of the show is 60 min, the "Cuadro flamenco" Puro Arte directed by Raúl Ortega, offers a different show every night. 5 top-level artists face to face in: one of the best flamenco stages in the world. In the Puro Arte tables there are microphones below and above the stage, which do not allow the mediocre to disguise their faults and exalt the great flamencos to infinity.

FLAMENCO ESSENTIALS
FLAMENCO ESSENTIALS
FLAMENCO ESSENTIALS - PRIVATE CLASS A fun introduction to the art of flamenco for complete beginners delivered in English. Enjoy a 90 minutes workshop which covers the fundamental elements of flamenco. No special clothing or footwear required - just turn up with enthusiasm and ready to have a great time!

Half Day Flamenco Historical Tour and Show
Half Day Flamenco Historical Tour and Show
Enjoy one of the exceptional shows in Cordoba, the flamenco show, sited in the Arabs Baths, an exclusive place in the centre of Jewish Quarter of Cordoba.

LIVE FLAMENCO SHOW IN MÁLAGA - TABLAO FLAMENCO LOS AMAYAS
Live Flamenco show in Málaga - Tabalao Flamenco los Amayas
Tablao Flamenco Los Amayas in Málaga, in the neighborhood of La Malagueta next to Pier One and the Pompidou Center. The shows are every day at 7:00 p.m. and 9:00 p.m., with a cast consisting of dancing, singing and live guitar. Every night you can enjoy a true flamenco party.

Destinations