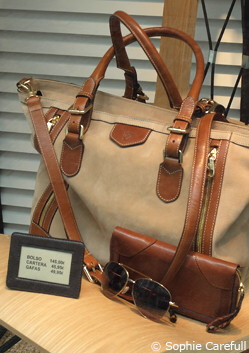 Classic style in Andalucia.
FASHION IN ANDALUCIA
Andalucians are well known for their style – think of Andalucian fashion, and you think of a woman in a swirling, spotty flamenco dress, with matching earrings and necklace, co-ordinating shoes and flower, and the finishing touch: a fan. But there's more to Andalucian sartorial sense than a traje de flamenca (even though most Andaluzas have at least five of them).
This is a good region for clothes shopping, with endless reasonably priced stores offering a wide variety of clothing, from the cheap-and-cheerful, to top designer togs. Spanish people dress up on a Sunday afternoon when they go for their family paseo, or stroll. If you see a wedding, watch what people wear – it's quite a sight; people go to town on the glam for special occasions.
Bear in mind that Spanish taste is very distinct from British and other northern European: they like bright colours, patterns, and several different patterns together on one item of clothing is not uncommon.