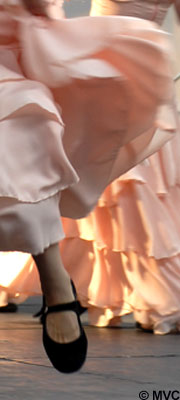 Live Flamenco at the Tablao
Flamenco Tablaos
Tablaos are found along the coastal resorts like Málaga, Torremolinos, and Marbella, as well as the big cities like Seville, where the flamenco tablaos are situated in the old part of the city, and in Granada, where you will be entertained in the Sacromonte caves, the commercial tablao district of the city.
The problem with the tablao's is that they tend to be rather expensive places and will charge anything up to sixty-euros for entry, which will include anything from a basic glass of sangria to a set dinner. Some will not charge an entrance fee but you will pay somewhere in the region of fifteen to twenty-euros for your first drink, the price for any subsequent drinks will be reduced, but not by much.
If it is pure jondo style flamenco you are looking for, then with the odd exception, you will not find it in the tablaos.
If it is a good and enjoyable nights entertainment you want, and you don't mind spending a few euros, then the tablao's will entertain you. We would recommend that you check the tablao first to enquire of the price structure, as on some occasions a rather embarrassing situation can occur when the bill is presented at the end of the night.
A list of tablaos can be found below:
GRANADA
Taberna Flamenca La Cava.
Antonio López 16. CP 11004, Granada
Cueva de la Faraona
Camino de Sacromonte. CP 18010
Cueva del Roció
Camino de Sacromonte. CP 18010
Los Tarantos
Camino de Sacromonte. CP 18010, Tel: 958 22 45 25.
Zambra, María la Canastera
Camino de Sacromonte. CP 18010. Tel: 958 12 11 83.
Zambra Gitana, Venta El Gallo
Barranco de los Negros, 5. Sacromonte CP18010 Tel: 958 22 05 91
Jardines de Zoraya
32,Calle Panaderos, 18010, Granada
Buy tickets online from our Granada flamenco Nightlife page.
Jerez de la Frontera
El Lagá del Tio Parilla. Plaza Becerra 5 CP 11408
Tel 956 33 83 34.
La Taberna Flamenca. Angostillo de Santiago S/n CP 11408
Tel 649 38 39 78.
Málaga
El Tablao. C/Arenal 1 Tel. 952 06 12 55
Tablao flamenco Ana Maria-Marbella
Flamenco Tablaos in Malaga - Online Tickets
Seville
El Arenal. Rodo 7.CP 41001 Tel 954 21 64 92
El Patio Sevillano. Paseo Colon. 11-A CP 41001
Los Gallos. Plaza de Santa Cruz. 11. 41004
Anselma. Calle Pagés del Corro 49. (Triana). 41010. Tel 954 37 25 02
Flamenco Tablaos in Seville - Online Tickets
TORREMOLINOS

Taberna Pepe Lopez, Plaza de la Gamba Alegre 

Los Tarantos. Paseo Marítimo, 5. Playamar.

See Torremolinos nightlife page