Cordoba Juderia - Jewish quarter
Córdoba's old Jewish quarter consists of a fascinating network of narrow lanes, more atmospheric and less commercialised than in Seville although souvenir shops have emerged.
Synagogue
At the centre of the quarter is the Synagogue in Calle de los Judios. one of only three originals remaining in Spain. A Mudéjar construction dating from 1315. It was converted to a church in the 16th century and then held the Guild of Shoemakers until it was rediscovered in the 19th Century. The interior includes a gallery for women and plaster work with inscriptions from Hebrew psalms and others with plant motifs on the upper part.
Its main beautifully restored wall, has a semi-circular arch where a chest with the Holy Scrolls of Law used to be kept.
MAIMONIDES statue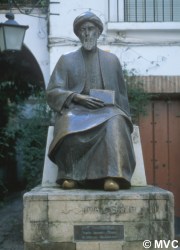 Statue of Sephardic Jewish
Philosopher Maimónides

Maimonides, a Sephardic Jewish Philosopher and Astronomer was born in Cordoba in 1135 or 1138. A statue to his honour stands in Plaza Maimonides (was Plaza Tiberiadus) (GPS: 37.879448, -4.783173) near the Synagogue. Moshe ben Maimon, (his name in Hebrew) became one of the most prolific and influencial Torah scholars and phisicians of the middle ages. After Cordoba was conquered by the Almohads (Berber dynasty) in 1148 Maimodes moved about present day Andalucia for the next ten years, residing in Fez (Morococ) before settling in Fustat (Egypt) in 1168. He died in Egypt in 1204. and was burried in Tiberas ( Galilee, Isreal).
CASA SEFARAD
This Sephardic house in the Juderia has been restored to how it would have been in the 14th century, before the Spanish Jews (known as Sephardi) were expelled from Spain by the Catholic Kings.
It has five themed rooms: you can see objects connected with important stages and events in life - birth, circumcision and marriage, as well as metal and clothing embroidered with gold thread and household items; you can learn about Sephardic language and culture, and see musical instruments; there's also has a display on important Cordoban Jews from history.
Students of the subject can visit the library, sound archive and document centre. The shop sells Sephardic music and ceramics, and occasionally events are held here: concerts, seminars, conferences and musical workshops.
La Puerta de Almodavar
La Puerta de Almodavar, is an entrance gate with a statue of Seneca, which together with the streets La Muralla and Averroes form the western boundary of the Juderia. The Juderia reaches as far as Calle El Rey Heredia to the north east and the Mosque to the south.
The Jews were established in Cordoba in roman and Visigothic times and formed a brilliant intellectual group when Hasfay Ibn Shaprut, Abdul al Rahmm III, Jewish councilor attracted intellectuals to the court. 
The Juderia is now known for the jewelers and silversmiths shops.
Destinations