Baeza
Take me to: Baeza Hotels
Baeza is tiny, compact and provincial with a kind of perpetual Sunday air about it. At its heart is the combined Plaza Mayor and the paseo which is flanked by pavement cafes but delightfully low key and atmospheric. The Plaza de Leones is a particularly attractive cobbled square enclosed by Renaissance buildings and stands slightly back at the far end. Here on a rounded balcony the first mass of the Reconquest is reputed to have been celebrated, the impressive mansion beneath it houses the tourist office.
Full of history, culture and monumental attractions, the small town of Baeza attracts an overwhelming number of tourists throughout the year. It is no wonder, then, that it also has a wide variety… More →
The urban morphology of the two small cities of Úbeda and Baeza in southern Spain dates back to the Moorish ninth century and to the Reconquista in the 13th century. An important development took… More →
Museo Ciudad de Baeza - Beaza city Museum
This museum features a selection of artefacts on display that show different periods of human occupation in Baeza.
The earliest… More →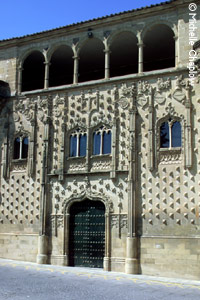 Jabalquinto palace.
The finest palace is the Marquessa de Jabalquinto, now a seminary with an elaborate Isabelline front (showing marked Moorish influence in its stalactite decoration). Just above it is the C16th cathedral which, like many of Baeza's churches, has brilliant painted rejas (iron screens) done by a local 16th century craftsman. However, the cathedral's real novelty is a huge silver custodia cunningly hidden behind a painting of St Peter which whirls aside for a small donation.
There are several special events in Baeza that are well worth marking down in your diary. Firstly there is the intrinsically Andaluz pilgrimage which is held on the 7th September in honour of the Santisimo Cristo de la Yedra and the Virgin del Rossel. A few days before the event, the image of the Virgin is carried from the shrine of La Yedra to Baeza and on the appointed day it is taken in procession from the San Pablo Church, among orchards and olive groves, to a spot near La Yedra where contests and dances are held.
When you return to Baeza, be sure to linger on a few days to discover its impressive monuments, visit the porticoed Plaza Porticada del Mercado Viejo, the Arco del Barbudo and the historic university where the poet Antonio Machado once taught. Carry on to see the paintings in the Church of Santa Cruz and don't miss the Palacio del Jabalquinto.
Famous poet and author Antonio Machado lived and taught in Baeza for many years up the civil war.
Úbeda and Baeza tour guided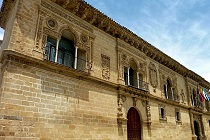 Úbeda and Baeza tour guided
The best way to get to know Unesco World Heritage cities with a specialist guide in a pleasant way. In addition the tour includes the entrance of the most important payment buildings of the two cities

Destinations