UNESCO WORLD HERITAGE SITES IN ANDALUCIA
ubeda & BAEZA
* The Renaissance Monumental Ensembles of UBEDA and BAEZA
Categories: urban landscape, post-Medieval European (added to list in: 2003)
What UNESCO says: "The urban morphology of the two small cities of Úbeda and Baeza in southern Spain dates back to the Moorish ninth century and to the Reconquista in the 13th century. An important development took place in the 16th century, when the cities were subject to renovation along the lines of the emerging Renaissance. This planning intervention was part of the introduction into Spain of new humanistic ideas from Italy, which went on to have a great influence on the architecture of Latin America."
What there is to see: Ubeda, the larger of the two: Plaza Vazquez de Molina, the Capilla de Salvador, and many magnificent palaces, including the Palacio de las Cadenas. Interesting potters' quarter - look out for traditional deep green glazes; cultural festival in May.
Baeza, nearby but half the size of its neighbour: Plaza Santa Maria, the Santa Iglesia Catedral, the Palacio de Jabalquinto, with its extraordinary facade, the Ayuntamiento and the University.
Úbeda and Baeza tour guided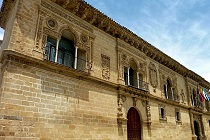 Úbeda and Baeza tour guided
The best way to get to know Unesco World Heritage cities with a specialist guide in a pleasant way. In addition the tour includes the entrance of the most important payment buildings of the two cities