San Fernando
Take me to: San Fernando Hotels
The town of San Fernando, often referred to as La Isla del Sur (the Island of the South), is not actually an island but a small peninsula, set within the stunning setting of the Bay of Cadiz. Covering an area of some 30 km2, it is connected to Cadiz City by an eight kilometre strip of land and for centuries was connected on the rest of the mainland only by the Zuazo bridge. It is an important Andalucian town, with a population of close to 100,000.
San Fernando is just 45 kilometres from Jerez de la Frontera Airport and Seville airport is 120 kilometres away. By car the approach is by motorway from all directions, with new infrastructure making the drive easy and very accessible. The train connections are excellent from Seville, Madrid and Barcelona and regional train services are also frequent. Local bus services are also good, especially from within the Cadiz province and from Madrid. There are good coach services from all other parts of Spain, with information on these available from most travel agencies and the internet.
San Fernando boasts over 3,000 hours of sunshine per year and its geographical location in Cadiz province makes it the perfect base for visits all along the Atlantic Coast and inland to the white villages and towns in the province. There are hotels and bed and breakfast accommodation for all tastes, allowing you to choose between luxury hotels or more economical places to stay.
The Beaches at San Fernando
Visit our San Fernando beaches page to read about Playa de Campo Soto and Playa del Castillo. More >
Fiestas and Festivals
During Carnival in February, the town comes alive with singing and locals dressing up. There are also processions and parades, all full of the same fun and satire of the Andalucian carnival flavour.
Easter Holy Week (Semana Santa) is an important time on the San Fernando festival calendar, with 20 processions taking place within that week, involving the local church Brotherhoods, which prepare all year for the smooth running of these wonderful religious celebrations.
Around the middle of July is the time for the Feria del Carmen y de la Sal (the Town Fair). Like the fairs held in all Andalucian towns and villages, the local people all enjoy a week of celebrations starting off with spectacular fireworks. Many stands remain open afternoon, evening and throughout the night selling food and drink. There is even a fairground area for the children, plenty of traditional dancing, and shows of horsemanship.
The Festival of the Patron Saints San Servando and San Germán is on the Sunday nearest to the 23rd October. Celebrations get underway with a traditional Andalucian romería (pilgrimage) and large communal picnic with all the villagers enjoying a full and colourful day at the Cerro de los Martires.
Art Gallery
As well as a permanent display of works by painter Juan Antonio Lobato, the Galería GH 40 holds itinerant exhibitions by various local and national contemporary artists.
Calle General García de la Herrán 40. Tel. 956 800 903.
Open Monday to Friday 11.30 to 13.30 and 18.00 to 21.00. Saturday 12.00 to 14.00.
El Camarón de la Isla - Legendary Flamenco Singer from San Fernando
Known as El Camarón (the shrimp - nicknamed thus due to his being born with fair hair and skin), José Monge Cruz was born in San Fernando in 1951. He had an extraordinary talent when it came to singing flamenco. Born into a gypsy family, he rose to become revered for his unmistakable singing and incredible heartrending voice and songs. He died of lung cancer in 1992 aged just 41, having become a legend for his music, taking flamenco to new levels and new audiences all around the world. He often played solo but also made albums together with the renowned Spanish musician Paco de Lucia. The two giants of the deep rooted Spanish toured together during the years 1969 to 1977.
This "blond gypsy" became symbolic of the gypsy people as he moved people emotionally with his heartrending voice and lyrics, which came from a depth previously never imagined. Ricardo Pachón, who was his producer from 1978, said "Camarón sang with his heart, tearing his throat apart. He was always improvising, because for Camaró, flamenco was not an art that could be simply learned, because that would have taken away the spontaneity and freshness."
Like a truly good wine or whisky, it may take some time to acquire a taste for this depth of Andalucian culture, but it is well worth it to hear some of his recordings and where better to listen, than in his birth place of San Fernando if you are visiting.    More about Cameron de la Isla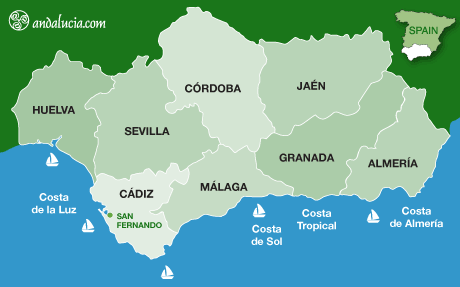 Destinations