Plaza de Alfonso X El Sabio.
El Puerto de Santa Maria
Take me to: El Puerto de Santa Maria Hotels
Like so many towns in Andalucía the approach to El Puerto de Santa María along the main road is lined with garages, industrial plants and run down buildings. Keep going and cross the River Guadalete on the NIV (if coming from south) and turn into Calle Ribiera de los Mariscos and park in one of the car parks signposted.  The old town centre is refreshingly traffic-free, with cobbled streets lined with orange trees and typical Andaluz architecture with lots of wrought iron and intricate tile work. Stray from the centre and the town seems a little less loved. The seafood restaurants and the ice cream parlors are the main draw to this coastal town. You can´t leave town without sampling their delicious food.
CASTLE
In the old part of town you can also visit the Castillo San Marcos built by Alfonso X around 1264. This is a well preserved delight hidden in the centre of the town and easily missed since, unusually, it is not on raised ground.
Castillo San Marcos, dating from the 13th century.
Sherry Bodegas
El Puerto de Santa Maria forms part of the famous Sherry Triangle, along with nearby Jerez and Sanlúcar. Be sure to ask for the locally produced "fino" which is very light and dry. Until the train was extended to Cádiz, all sherry from Jerez came through Santa María and its port is still used to some extent. Most of the bodegas offer  tours and tasting to visitors, including Osborne (956 861 699), Luís Caballero (956 861 399) and Fernando A Terry (956 862 700).
At Osborne at  Calle Los Moros, 7, the English language tour is every day at 10.30h.   The one hour tour os followed by a wine testing, with several options:
- Visit+ tasting of our VORS (Very Old Rare Sherries) served with Iberian Ham 5J and snacks, sit down in our private bar: 50 € per person. 
- Visit+sherry tasting, brandy and snacks served with Iberian Ham 5J , sit down in private bar: 35 € per person 
- Visit+sherry tasting, brandy and snacks, sit down in private bar: 18 € per person 
- Visit+sherry tasting, brandy and snacks in tasting room (standing up): 12 € per person.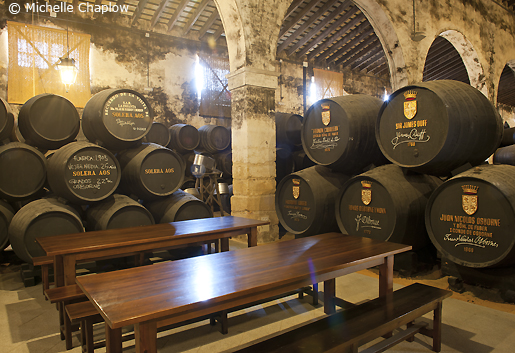 Take a tour of the world-famous Osborne Bodegas.
Hotels are in abundance here. For more information and our list of El Puerto de Santa Maria Hotels, Click here.
Plaza de Toros
The bullring of El Puerto de Santa María is built in the 19th-century eclectic style and was inaugurated on 5 June 1880. Rather than circular in shape, it is a 60-sided polygon, three floors high, with an exterior diameter of 99m and the sand 60m. The bullring's capacity is 12,186 spectators, making it the third-largest in Spain after Madrid and Valencia. In 1995 Jesulin de Ubrique chose this venue for his exhibition solo bullfight against six bulls in the presence of 12,000 women, including all-female officials.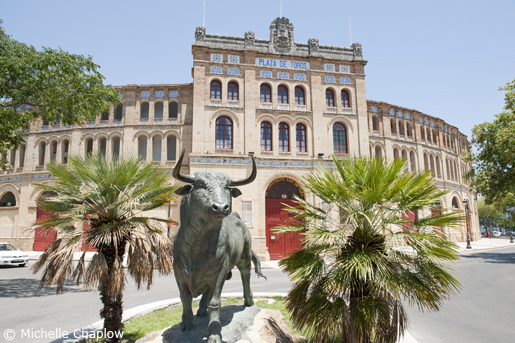 The bullring in El Puerto de Santa Maria.
Ferry
There is a modern high-speed catarmaran ferry which traverses the bay to Cadiz from the Muelle del Vapor.  There are about 30 sailings a day (see pdf timetable).
This makes for an interesting excursion. A steam boat service, established in 1929, was replaced in 1955 by El Vaporcito, a diesel-powered monohull excursion boat that was declared of national cultural interest (BIC) in 2001. Unfortunately El Vaporcito sank in Cadiz Victoria Harbour (pic) in 2011. El Vaporcito has since been restored and has sailed again on special occasions.  
Take the high speed catamaran to Cadiz from El Puerto de Santa Maria.
Fresh seafood in El Puerto de Santa Maria.
seafood restaurants
On the main Ribiera del Marisco facing the park and the River Guadalete is the "Harry Ramsdens" of marisquerias or seafood eateries. Romerijo is a restaurant/bar founded in 1952 with multiple terraces. Waiters take drinks and food orders, or you can 'take away' from the fried fish counter on one side or seafood counter on the other. You can choose from a selection of about 25 varieties of seafood sold by the kg. Unusually, you pay for the take-away fish or seafood and then return to your table, which can mean you end up with three bills: one for the seafood, one for the fried fish, and another for drinks and more elaborate dishes ordered from the main menu. Priced in line with its excellent reputation, those three bills can soon mount up, but the produce is the freshest possible and quality is superb. This boisterous restaurant is not to be missed. Come early on Sunday lunchtime or you will be queueing around the block for a table.
Spanish food blogger Carlos Mateos @espetoblog has kindly provided Andalucia.com with his insider knowledge on foodie venues.
Upmarket - El Faro del Puerto with chef Fernando Cordoba Serrano,  Aponiente de Angel Leon, and Casa Las Flores.
Great choices of local bars and restaurants - Los Portales, Betis, Pijota, Bodega Obregon, Paca Ceballos, Arriate and Laúl.
Aponiente, El Puerto de Santa Maria - Three Michelin Stars
Known as Chef del Mar, Angel Leon won his second Michelin star in 2014 and third in 2017. Considered as one of Spain's most innovative chefs, he specialises in experimental seafood dishes using plankton and algae. Typical dishes include bourgignon of scallops, sea iberico (chorizo made of fish) and plankton paella with aioli tartare.
C/ Francisco Cossi Ochoa. El Puerto de Santa María Cádiz Tel.: +34 956 851 870  Map
More>
PATIOS FESTIVAL
Every Spring, the city of El Puerto de Santa Maria, has a Patio Festival. El Puerto de Santa Maria began its Fiesta de Los Patios about the turn of the millenium. The "Association of Friends of the Patios of El Puerto de Santa Maria" (Asociación de los Amigos de los Patios Portuenses) sponsors a type of "open-house" that allows everyone to visit selected patios in the historic part of El Puerto.   More info > 
archaeological site
Another attraction to be found in the area of El Puerto de Santa Maria is the archaeological site of Doña Blanca. Here lie the remains of a Phoenician settlement which are open to the public weekly from Wednesday to Sundays between 10am and 2pm. Carretera del Portal, KM 3.2, Apdo. de Correos 847. 11500 El Puerto de Santa Maria.
Caminito del Rey - Private Full Day Tour from El Puerto de Santa María

Private Day Tour from El Puerto de Santa María
Private day tour from El Puerto de Santa Maria Walk the famous Caminito del Rey footpath through the El Chorro gorge. Private day tour for just you and your party with knowledgeable guide. Pick up from hotels in El Puerto de Santa Maria. Travel to start of path and collection from exit. Everyday except Mondays. Hotel pick up at 09,00 hrs - Price from 147€ pp (for six)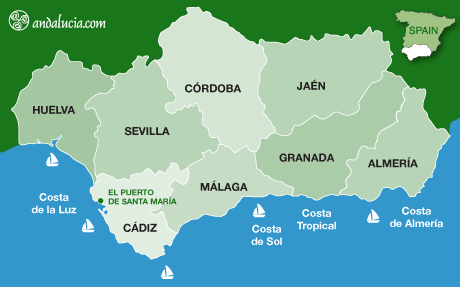 Destinations