El Palmar
Take me to: El Palmar Hotels | El Palmar Rentals
El Palmar is located 5km north of Vejer and is the Surf capital of Andalucia.
Unknown by non-Spanish visitors until recently, El Palmar is becoming more popular for its laid-back atmosphere and unspoiled landscape. The dunes and foliage are being carefully preserved with elegant solid wooden walkways leading to the beach. The sand is golden.
El Palmar is a long, straight, windswept beach, lined with a succession of bars and restaurants by the road which follows it. It is popular with surfers, and has lively nightlife in the summer. There's a huge variety of bars and restaurants stretched along the coast road.Try La Cerveceria, La Dolce Vita, Restaurant Morito, Casa Francisco el de Siempre (up Market) and Hostal El Rajero Verde.
The 5km stretch of white sand, backed by a strip of grass, consists of two areas separated by a tower, Torre Nueva, which is also where the main access road arrives. There are plenty of places to stay and eat, but are all simple, low-rise buildings so it doesn't have the built-up feel of many other recently developed towns along the coast. On warm summer evenings young people in the bars on the roadside and the surfer in the water waiting for the best waves.
The long, flat, straight beach has no shelter from the wind, in terms of either trees, sand dunes or cliffs, so it's not the best for a breezy day. But this does make it ideal for surfing and wind-driven watersports - there are several places to hire boards and take lessons such as the Surfshop opposite tower called Kotadulu.
The north end of the stretch is quieter and there is no vehicle exit at this end.
To get to El Palmar, take the N-340 north heading from Vejer towards Conil and Cadiz, and then take the first turning off to the left, the CA-2141.
A beautiful destination on the Costa de la Luz, El Palmar has, so far, managed to avoid the high-rise buildings and hotel resorts that you so often see in these coastal towns. The town has an… More →
An increasingly popular destination for surfers, local Spaniards and foreign tourists alike, El Palmar has a variety of accommodation options. The El Palmar hotels are mostly smaller, family-run… More →
There is a local bus from Cadiz and Seville to Atlanterra calling at EL Palmar and Conil de la Frontera.
Book Surf lessons
-
Book Horseriding tours
WHERE TO STAY
Check our Hotels and Self-Catering pages for our personal suggestions on where to stay in El Palmar.
Surfing Information
"I have found good waves on this coast year round. I have been travelling here for over 10 years. Winter is definitely the best as it has the consistency and conditions to beat most of northern Europe although it can lack the size of Portugal. Many "secret" waves along this coast and in some surprising locations quality barreling waves in plain view that are rarely surfed. The major hurdle here is the swell direction. The less west in the swell the more the size will decay as it wraps around point Zagres in Portugal. Although this same wrap can turn a huge messy Portuguese storm swell into classic ground swell for Costa del la Luz."
"Fairly exposed beach break that has reasonably consistent surf. Winter and spring are the best times of year to visit. Works best in offshore winds from the east. Poor surf in light onshore winds Tends to receive a mix of groundswells and windswells and the ideal swell direction is from the southwest. The beach break offers mainly right hand waves. Good surf at all stages of the tide. Often Crowded. Watch out for dangerous rips."
Sand is dredged and dumped on the beach every spring after the winter storms. There is is debate as to whether this help or hinders the surf. It certainly covers up some rocky spots on the sea bed.
Nov to Feb Regular Swell Waves 1-5 to 2 m
Mar to May Occasional Swell Waves about 1m
June to August Usually Flat Waves less than 0,5
Sept to October Occasional Swell Waves about 0,5m
For the Beginner: Ideal Wind Easterly, Ideal Swell South Westerly.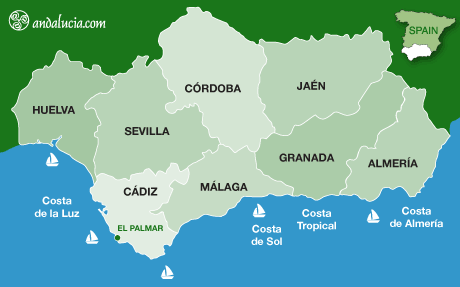 Destinations