Rota
Take me to: Rota Hotels | Rota Rentals
Rota, an ancient town, stands at the extreme north of the Bay of Cádiz in a privileged position. The town opens out to the Atlantic and behind are two national parks, the Natural Park of the Bay of Cádiz and the Doñana. It is also a town of two extreme contrasts. The old town inside its ramparts has almost a medieval atmosphere. Nearby is a major USA naval base, one of three in Spain established in the 1950's during the Franco era.
Rota is 41 kms from Cádiz, 163 kms from Algeciras, 25 kms from Jerez de la Frontera and 126 kms from Olvera. There is no rail service to the town but it can be reached by express coach and the nearest airport is at Jerez.
Rota is not a major tourist centre but it does boast very fine beaches. In all there are sixteen kilometres of beach. The major beaches are the Playa de la Costilla, Rompidillo, Playa de la Ballena and Punta Candor. The Playa de la Costilla, Punta Candor, Rompidillo, Playa de la Ballena and Puntalillo have all been awarded blue flags by the European Union for their high standards of cleanliness and facilities. Also being on the Atlantic coast Rota is a good venue for windsurfers.
Rota is an ideal town to view on foot. Stroll down its wide streets from calle Italia, Garcia López and San Clemente arriving at the Palacio Municipal Castillo de Luna and the church of Nuestra Señora de la Expectación. From there you can visit the harbour Deportivo Pesquero Astaroth and perhaps round off your walk with the fine view of the Bay of Cádiz to be seen from the Mirador or the Balcón de las Almenas.
Walking through the centre of the town you will come across many interesting shops. A visit to the fish market at the harbour of Pesquero Astaroth is a must. Here you'll see the shellfish and fish catches of the day at what is known as the most famous fish market on the Cádiz coast. Gourmets should also be sure to walk through the Plaza de Abastos where are displayed the horticultural, fruit and vegetable produce of the rich farmlands near Rota.

Rota is also known for the Rota Naval base which dominates the town and cuts off direct access along the coast from the south.  
Ferry to Cadiz
There is a modern high speed catermaran ferry which traverses across the bay to Cadiz. There are about 10 sailings a day. Here is a pdf timetable.
 
Next places
Next places are Chipiona, El Puerto de Santa Maria and Jerez de la Frontera.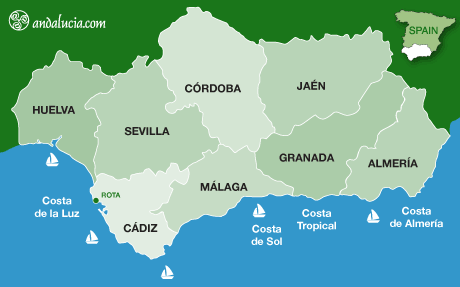 Caminito del Rey - Private Full Day Tour from Rota
Walk the famous Caminito del Rey footpath through the El Chorro gorge. Private day tour for just you and your party with knowledgeable guide. Pick up from hotels in Rota. Travel to start of path and collection from exit. Everyday except Mondays. Hotel pick up at 09,00 hrs - Price from 147€ pp (for six)
Destinations