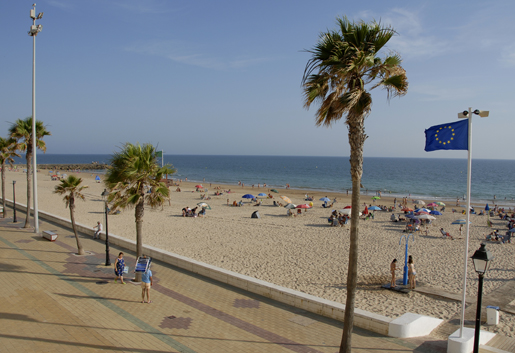 The Rota coastline has plenty of beaches to explore, many awarded with Blue Flag status for great facilities.
Rota is not a major tourist center but it does boast 16 kilometres of beautiful beaches.
La Ballena
Playa de la Ballena is a 2.5km beach of fine sand backed by the relatively new Costa Ballena urbanisation. The beach has a seasonal chiringuito, several kiosks and sun loungers, parasols and boats to hire. The beach can be reached by bus from Rota town centre.
Aguadulce
Playa Aguadulce continues on from La Ballena beach. The usually quiet beach boasts fine, golden sand, although be aware of the high tide that reduces the width of the beach and the slight slope between the beach and the water. The beach is backed by seaside vegetation and is popular with families and those who enjoy fishing. There is parking and camping nearby, but no other facilities.
Peginas
Playa de Peginas is 2.5km in length with a width of just 35m. The sea has a moderate swell making it popular with divers, wind-surfers and those who enjoy sailing. Peginas beach has three beach bars, open in the summer, parking and toilets. There are also several restaurants nearby.
Punta Candor
Punta Candor beach is wide beach with a length of 1.5km that can be accessed across the sand dunes and shrubby between the beach and the car park. Playa Punta Candor has excellent facilities that have been recognized by a reguarly awarded Blue Flag award from the European Union, such as: toilets, showers, seasonal kiosks, changing rooms, sun-loungers and parasols for hire, a surveillance team and disabled-friendly access to the beach. Nearby there is a campsite and a picnic area. There is normally a small wind, making the beach idea for those who practice kayaking and sailing. It is one of the few beaches that permit dogs and fishing. The beach can also be reached by bus from Rota city centre.
Los Corrales
Playa Los Corrales is just west of Punto Candor and its feature is the old stone tidal fishing pens off shore. Each one has a name; Encima, De Emnedio a San José, Chico, Chinquito, San Clamente or Liebre. The beach is 25m wide with fine golden sand. Access is from the 'Avenida de Diputacion' paths at the west and along a series of boardwalks over the dunes. At the east end near Hotel Playa de la Luz along Avenida de los Corrales is road access and usual beach facilities. The centre part of this beach which is difficult to access due to the dunes and protected pine forest behind is usually quiet.
Puntalillo
Another regularly awarded blue flag beach, Playa del Puntalillo is just less than 1.5 kilometres in length, stretching from the Centro de Interpretación del Litoral to the Hotel Playa de la Luz. Puntalillo beach is popular with the locals and boasts facilities such as parking, showers, toilets, changing rooms, several beach bars, life guards, a nearby campsite and a terrace bar located by the viewpoint in the car park. Despite the facilities, it is a natural country beach, backed by sand dunes and forests.
Piedras Gordas
Playa de Piedras Gordas boasts several kilometers of fine, golden sand and is surrounded by the Rota Dune System. It is also backed by a large area of eucalyptus and pine forest. This tranquil beach is very popular as it is very easy to spend an entire day there, thanks to its picnic area and children's play area. Piedras Gordas beach also has toilets, showers, changing rooms. Lifeguards and parasols and sun loungers for hire. The best way to access the beach is through the residential area of La Almadraba where the roads stretch all the way down the beach. However, it is recommended to leave your vehicle on the main road and continue on foot through the Almadraba park area.
La Costilla
Playa de la Costilla tends to be one of the most crowded beaches in Rota, thanks to its close location to the town. It is yet another beach in Rota to have been regularly awarded a blue flag for its high standards of cleanliness and excellent facilities, including: showers, toilets, changing rooms, lifeguards, sun loungers, peddle boats and parasol for hire and nearby parking. The beach also boasts six restaurants and three chiringuitos, as well as a paseo maritimo which offers access adapted for wheelchair users. The beach is a little more exposed than the previous ones so be aware of the slightly stronger waves.
Rompidillo
Playa del Rompidillo (also known as Playa del Chorrillo) is located alongside the town of Rota, to the east of the port. It is very similar to La Costilla in terms of its extensive facilities, which has also won a regular blue flag award for the beach. Visitors are able to take advantage of facilities such as clean showers, toilets, changing rooms, life guard posts, parking, several beach bars and boat hire. The beach also boasts a picturesque promenade, with wheelchair access, which has beautiful views across the bay. The beach is very popular with families thanks to the calm waters in the sheltered bay.
Galeones
Playa de Galeones is the continuation of Playa del Rompidillo but separated by some small cliffs and headland called Pico Barro where there are rocks and rock pools at low tide. Geographically it is bounded at the east by the breakwater for the Rota US Naval Base. Access to the smaller western part is by the 'paseo' (promenade) that runs down to the beach. The beach is also known locally as Playa del Almirante. There is a small breakwater and full security fence to divide the US Navy Base part of the beach from the public part.
<< West to Chipiona beaches         -          East to Puerto Santa María Beaches >>
Destinations