If you like sport then you'll be pleased to know that Rota offers year-round facilities and competitions in football, swimming, sailing, fishing, beach volleyball, volleyball, basketball, windsurfing and athletics.
For general sports facilities try the Pabellón Municipal de Deportes. You can swim at the Piscina Municipal, golf at the Club Costa Ballena and ride at the Escuela Municipal De Equitacion.
Given Rota's fine situation on the Bay of Cádiz sailing is a major sport in the town. Sailing activity is centred around the Puerto Deportivo Astaroth, with its 362 moorings. There is also a sailing school - Escuela Municipal de Vela Theresa Zabell, named after the British-born Spanish Olympic yachting gold medallist.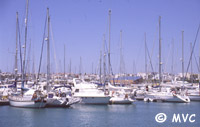 Latitude: 36*36'6"N - Longitude: 6*21'2"W - VHF: CH9 & 16
Harbour Entrance width: 70m depth: 5m
490 Moorings, 6 - 15m deep
Rota Marina
(Puerto Deportivo de Rota)
Small and functional port.
Things to see:
Churches.
Destinations