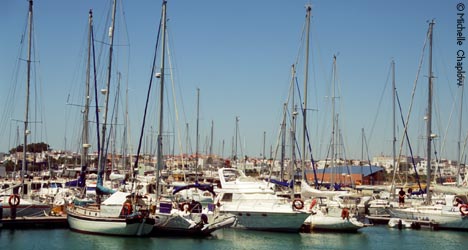 WHERE TO EAT & DRINK
The town of Rota has many small bars and cafés where you can enjoy a snack and drink. The area around the Puerto Deportivo is especially popular with both residents and visitors in the summer months.
Here are a selection of restaurants, ventas and mesones, which you might like to visit.
Atlántico, Hotel Playa de la Luz, Avda Diputación. Tel: 956 810 500.
Menu: A la carte.
Casa Rámon, Avda Diputación 86. Tel: 956 811 636.
Menu: fish and shellfish.
Costa Rica, Hotel Caribe, Jacinto Benavente. Tel: 956 810 700.
Menu: Fish and rice dishes.
El Embarcadero, Hotel Duque de Nájera, Gravina, 2. Tel: 956 846 020.
Menu: fish and shellfish.
El Rincón de la Urta, Avda Principes de España, 34. Tel: 956 812 493.
Menu: Urta a la roteña, fish and rice.
Hotel Nuestra Señora del Rosario, Higuerta, 25. Tel: 956 810 600.
Menu: Fish and rice.
La Espuela, Club Hipico de Rota, Ctra de Santa Teresa. Tel: 956 230 536.
Menu: Home cooking.
El Ancia, Mina 31. Tel: 956 841 791.
Menu: Fish and meat.
La Costilla, Plaza Jesús Nazareno, 7. Tel: 956 810 101.
Menu: Fish and shellfish.
Dishes to try:
Urta a la roteña is a popular dish in Rota and is unique to the town. It is a unique blend of the fish from the bay and the produce of the rich local countryside. Here are some other typical dishes you will find in Rota: sopa de Urta (a soup), aranque roteño (a herring dish), berza de vigilia (a cabbage dish), tortillitas de camarones (omelettes with prawns), papas con pargo (potatoes with red mullet) and a whole variety of fresh fish from the Bay of Cádiz.
Wine:
Rota also has its own wine La Tintilla de Rota. It is made from a very ripe grape of the red variety. The resulting wine is very dark, of a red curra(nt or violet tone, with a lot of body and a bittersweet flavour. The wine is not produced in large quantities but it is possible to find it in the bodegas and tabernas in the town.
Destinations