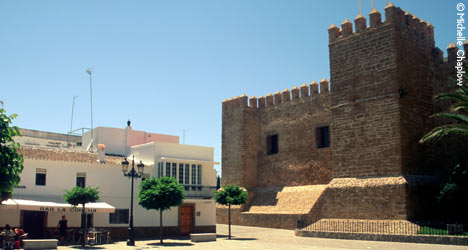 The old medieval town of Rota has some fine monuments that visitors should make time to see.
The Castillo de Luna is in calle Cuna, 2. This magnificent building is the official emblem of the town. It also houses the town hall and tourist office. It was erected on the remains of a Moorish castle after the Christian conquest of the town in the 13th century. There are guided tours at weekends at 11.00, 13.00, 17.00 and 18.00. Telephone 956 846 345 or 956 846 174 for details.
The Iglesia Parroquial de Nuestra Señora de la Expectación is in the Plaza Padre Eugenio, 1. The church was built between the 16th and 17th. Perhaps because of that it incorporates different architectural styles, gothic, plateresque and baroque. It can be viewed between 9.00 and 13.00 and 18.30 and 21.00.
The Torre de la Merced is in Compás del Convento. As the street name suggests the tower once was part of the Convent of Merced. The convent was destroyed when an earthquake hit Rota in 1722 but the tower was rebuilt.
The Capilla de San Juan Bautista is to be seen in Veracruz, 2. The chapel is a fine example of Andalucían architecture of the 18th century. The interior is particularly noted for its fine high altar, which is the work of Diego Roldán.
The Iglesia de San Roque is in the Plaza de San Roque. The old hermitage is dedicated to the saint of the same name. It has been a popular place of devotion for centuries.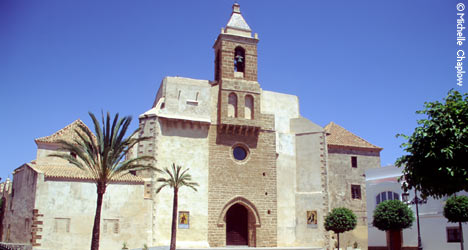 Fundacion Alcade Zoilo Ruiz-Mateos is to be found at Charco, 5. It houses exhibitions of paintings, sculpture and photography plus other types of cultural activity. For exhibition information, telephone 956 810 411.
The best way to get to know the fauna and flora of Rota is to visit the several of the parks around the town. These include:
Parque Atlántico, Avda. Guillén Moreno, Urbanisation Virgen del Mar. It is open between May and October from 10.00 to 24.00 and from November to April from 10.00 to 20.00.
Parque El Mayeto, Maria Auxiliadora. This park houses a museum of farm implements where you can see the tools used by local farms over the past generations. It is open from May to October from 10.00 to 24.00 and from November to April from 10.00 to 20.00.
Jardín Botánico Celestino Mutis, Avda de la Diputación. The botanical gardens are closed on Mondays. They are open between Tuesday and Fridays 10.00 to 14.00 and 15.30 to 18.00. Also Saturdays and Sundays from 10.00 to 14.00 and 15.00 to 18.00.
Laforestal, Avda de la Diputación. This is a recreational and environment educational centre. For information call 956 815 500.
Destinations