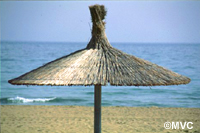 Huelva Beaches
Costa de la Luz (Huelva)
Use our guide to explore the beaches along the Costa de la Luz from the furthest east next to the Portuguese border, to the furthest west at the Campo de Gibraltar.
Beaches along the Costa de la Luz are generally long, sandy and backed by dunes and pine woods. During July and August the beaches nearest the resorts are packed with mainly Spanish visitors from Huelva city and Sevilla.

For the rest of the year, this coast is uncrowded and even in summer, it's possible to find a relatively peaceful place on the beach. Although the beaches are exposed, they are less windswept than ones along the Cadiz stretch of the Costa de la Luz, but it's still good for windsurfing.
Ayamonte
Isla Cristina

Isla Canela and Punta del Moral are the westernmost beaches on the Andalucian coastline before reaching Portugal.

More >

The choice of several beaches make Isla Cristina popular with people and families of all ages.

More >

Lepe
Cartaya

20km of sandy beaches stretch alongside La Islantilla and La Antilla, up to Playa Nueva Umbría.

More >

A narrow spit of land extends for miles protecting the coast and extending the Rio Piedras.

More >

Punta Umbria 
Huelva City

Another resort town and large beach on the River Odiel.

More >

 El Espigon beach has a unique location on a sand spit in the Rio Odiel.
More >
Mazagón 
Moguer 

Just over five kilometres of beautiful beaches lead up to Doñana Natural Park.

More >

 Secluded country beaches form the coastline of Doñana Natural Park.
More >
Matalascañas (Almonte)

The last beaches before reaching Cádiz province provide an excellent balance between country dunes and tourist hotspots.

More >
Costa de la Luz (Cádiz)
The Costa del Luz (Cadiz) beaches tend to be long, with fine golden sand and huge dunes. The coastline is dotted with small fishing villages. This area is popular with tourists from Seville, other parts of Spain and international travellers, backpackers and campavaners. Can be very windy at times but great for windsurfing and surfing.
About beaches in Andalucia
Coasts of Andalucia