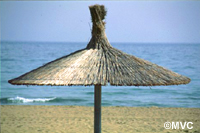 Huelva Beaches
Costa de la Luz (Huelva)
Use our guide to explore the beaches along the Costa de la Luz from the furthest east next to the Portuguese border, to the furthest west at the Campo de Gibraltar.
Beaches along the Costa de la Luz are generally long, sandy and backed by dunes and pine woods. During July and August the beaches nearest the resorts are packed with mainly Spanish visitors from Huelva city and Sevilla.

For the rest of the year, this coast is uncrowded and even in summer, it's possible to find a relatively peaceful place on the beach. Although the beaches are exposed, they are less windswept than ones along the Cadiz stretch of the Costa de la Luz, but it's still good for windsurfing.
Costa de la Luz (Cádiz)
The Costa del Luz (Cadiz) beaches tend to be long, with fine golden sand and huge dunes. The coastline is dotted with small fishing villages. This area is popular with tourists from Seville, other parts of Spain and international travellers, backpackers and campavaners. Can be very windy at times but great for windsurfing and surfing.
Coasts of Andalucia
About beaches in Andalucia