White sand and blue skies at Los Lances beach.
Discover the Tarifa beach scene - the fine golden sands, those surf-loving winds, and that very special light of the Costa de la Luz, together make an unbeatable combination.
PLAYA DE LOS LANCES
The 10 km of white sandy paradise for which Tarifa is famous. Located north of the town as far as small headland on which sits Torre de la Peña. The beach and the pines behind it are officially protected as a Natural Area.  
The beach is well-equipped with public toilets, showers and changing rooms, lifeguards, first aid points, flags to signal the state of the sea, several restaurants and a several of beach bars. There are parking areas but they become full in the summer weekends. If full park  on the other side of the main road and walk, and parking tickets are frequently issues to those that park on the access roads. There are two camp sites at this beach Camping rio Jara and Camping Tarifa.  The beach is also served by buses running from the town of Tarifa. As it is 10km long it is often refered to in its North of South sections (Playa de los Lances Norte, Playa de los Lances Sur, or by Playa Rio Jara. The most southern part by the town is refered to as Playa Balneario.
The Playa de los Lances North has demarked bathing and watersports zones. Playa de los Lances South is for bathing only.  
PLAYA DE VALDEVAQUEROS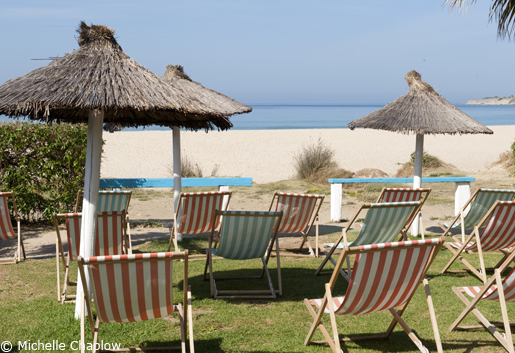 Chill out at Valdevaqueros beach.
The beach that defines Tarifa as the European Mecca of wind sports.10km from Tarifa town, with beach bars and events attracting a vibrant young crowd.
10km northwest of Tarifa, a short drive along the coastal N340, sits the area´s most bustling beach. Valdevaqueros stretches 5km from a small headland (on which sits Torre de la Peña) near the Hurricane Hotel, all the way to Punta Paloma. Packed with kitesurfers and relentlessly cool, it´s a must for anyone seeking a beach with atmosphere.
Heading away from Tarifa, the beach is signposted to the left, and accessed via a dusty track. There is a small network of carparks, which cost 5€ for the day. The relaxed vibe of Valdevaqueros quickly becomes apparent, with a predominantly young crowd all heading for the sand. The scope of the beach can easily be taken in; white sands, deep blue water, and the vast dune of Punta Paloma rising in the distance. Longshore drift is actually shrinking Tarifa´s beaches, dragging sand onto dunes like these, which is bad news for local ecosystems but makes for some striking beachscapes.
Valdevaqueros has a kite-surf zone, a wind surf zone to the north and by the dunes at Punta Palmona is for only bathers. The northern bathing part of Valdevaqueros is a better place when strong Levante (easterly) wind is blowing.
Read more on our Valdevaqueros page.
PLAYA CHICA
Playa Chica is a family friendly beach in Tarifa.
A small family beach, very popular with local residents. It is one of the only beaches in Tarifa that is sheltered from the strong winds there. Can get very crowed on particularly breezy days.  Located in a small cove by the causeway called Muelle de Rivera to the west of the town, between the port and Las Palomas island. For a small beach it has surprisingly good facilities including life guards, a Red Cross post, toilets, showers and a restaurant. There is also parking nearby.
LA CALETA
Sandy coves and rocky platforms often missed by tourists, located just to the east of the town. Favoured by fishermen and those who are looking to get away from the crowds. Can be reached by following the track along the coast starting at the east end of Plaza Miramar where it turns into Calle Independencia. This is more sheltered and good place when strong Levante (easterly) wind is blowing. 
<< West to Bolonia        -        East to Algeciras >>
Destinations