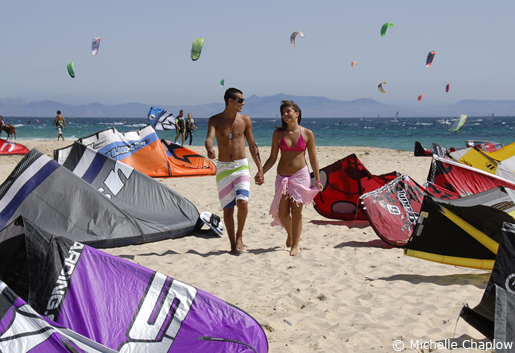 KITESURFING in Tarifa
Thanks to its ideal situation on the Straits of Gibraltar opposite Africa, where the Atlantic and Mediterranean meet, with constant winds, Tarifa is already known as the European capital of windsurfing. The beaches of this historic Moorish town have also now established themselves as a world-class destination for another hugely popular, and very beautiful, wind-powered watersport: kitesurfing (also known as kiteboarding).
Tarifa is the perfect destination to try out the sport, as the sun shines nearly all year round and, more importantly, a number of kitesurf schools and equipment shops offer classes, as well as options to hire or buy boards and kites.
Kitesurfing involves catching waves on a surfboard, propelled by a kite which is attached to the surfer using a body harness, and then jumping into the air. Read more about kitesurfing on our kite surfing page.
Each year many top Spanish and international kite surfers join beginners in Tarifa keen to try out this sport, which started in the 1990s. An international championship is usually held in the… More →
Since the sport can be potentially dangerous, with boards moving along at up to 80km/h, surfers and bathers are separated by yellow buoys on Tarifa's beaches. Two kitesurf zones along the beaches… More →
Surfers have to pay close attention to up-to-date wind reports from websites such as Wind Guru, although kites can be flown in lighter winds than for windsurfing. The best kitesurfing months are… More →
KITE SURF SCHOOLS
Most beginners sign up for a course at one of the kitesurf schools, where equipment will be provided. You can choose from private (one-to-one), semi-private (2 or 3 students) and group (3 to 6 students) courses. A three-day course at one of the many licensed schools should be enough for a beginner to learn how to "fly solo".
When choosing a kite school you should watch out for the condition of the equipment (wetsuit, harness, lifejacket), the instructors' qualifications, and whether the school is officially registered with Tarifa Town Hall.
Your next step, after completing your course, would be to buy second-hand equipment from one of the surf shops on Calle Batalla del Salado. Professionals will have more than one kite, in a range of sizes to suit various wind conditions, exactly as with a windsurf sail.
Fans of the sport cite the feeling of exhilaration and freedom, as you race over the waves on the board, then soar metres up in the air, come back down again, and then bide your time till the next chance to fly. For those who come from a surfing background, kiteboarding appeals because it's easy to catch and ride waves in quick succession, rather than having to paddle back out to the breaks and then wait for the perfect wave.
Kite Surfing Lessons in Tarifa
Book Kite Surfing Lessons in Tarifa
Destinations