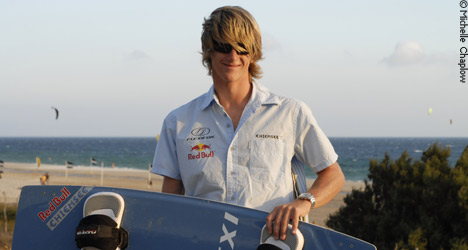 World kite surfing champion Aaron Hadlow.
Kite Board Championships 2 to 6 July 2008
From 2-6 July the Telefónica Movistar Kite Pro World Kiteboard Championships 2008 took over the beaches of Tarifa, Cádiz, bringing the best kiteboarders on the planet to Andalucia for the third year in a row.

And the winners were...

Gisela Pulido from Catalonia who celebrated her victory over the Polish surfer Karolina Winkowska.
Kevin Langaree from Holland took all in the men's championships. He faced tough competition from Aaron Hadlow, who came in second. Also, a native of Málaga, Álvaro Onieva, won third place and received much praise and support by the local community for this achievement.
 The Professional Kiteboard Riders Association (PKRA) was created in 2002 and organises this prestigious, world-famous competitions which involves 10 different events held throughout the year. This year Tarifa will be home to the fifth event in series that literally circles the planet.
Tarifa was the Professional Kiteboard Riders Association headquarters since 2006 and definitely a favourite for professional kiteboarders thanks to excellent wind conditions and a fantastic ambience – especially during the summer months.

This year the Kitboard Championships will have both men and women competing in Freestyle and Best Trick categories and will include such international greats as Aaron Hadlow (current World Champion), Ruben Lenten, Kevin Languere and Youri Zoom. Also a native of Málaga Álvaro Onieva, winner of the Spanish Championships, will be leading the Spanish contingent this year.

It's all happening in Tarífa from Wednesday the 2nd of July until Sunday the 6th of July with most competitions taking place between 11:00 in the morning and 5:00 in the evening with meetings and auxiliary events before and after.
Kite Surfing Lessons in Tarifa
Book Kite Surfing Lessons in Tarifa
Tarifa Championship Competition Reports