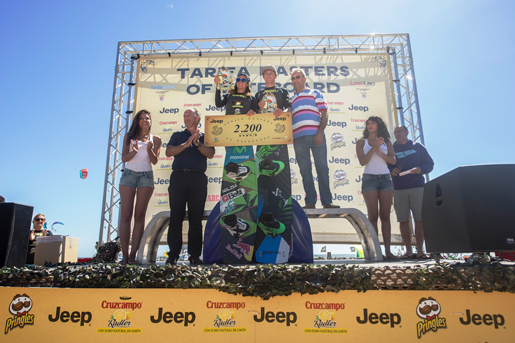 Winners of Tarifa Masters of Kiteboard 2014, Gisela Pulido and Liam Whaley.
Gisela Pulido and Liam Whaley win Tarifa Masters of Kiteboard 2014
The winners, both Spanish, demonstrated style, power and skill in the water throughout the whole competition.
The latest edition of Tarifa Masters of Kiteboardwas held from 4-8 June 2014. This year's winners both hail from Tarifa - Gisela Pulido, nine-times world champion, and Liam Whaley, who is currently in fifth in the international rankings, were crowned Masters of Kiteboard at Playa Valdevaqueros in Tarifa.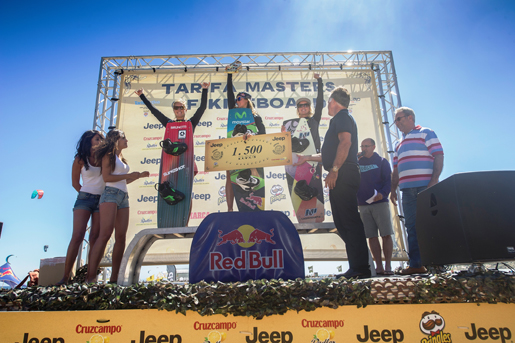 Gisela Pulido, Annelous Lamert and Annabel Van Westerop celebrate on the podium.
On the final day of the competition, the kiteboarders donned their wetsuits and headed into the sea to use the "kicker" ramp. This new event was introduced this year to add more variety to the championships - all the kitesurfers were very keen to try out a different obstacle. The competition started smoothly, but strong waves made one side of the ramp tip over, so the judges decided to end the finals with the best trick in the water instead. Thomas Paris, who had been keeping the audience in suspense until the last minute, won in this category.
WINNERS
Wild Card (amateur competition)
David Tonijuan
Pau Gisbert
Expression Session
Guillermo Álvarez
Thomas Paris
Kicker
Freestyle
Men:
1º Liam Whaley
2º David Tonijuan
3º Patrick Blanc
Women:
1º Gisela Pulido
2º Annelous Lammert
3º Annabel Van Westerop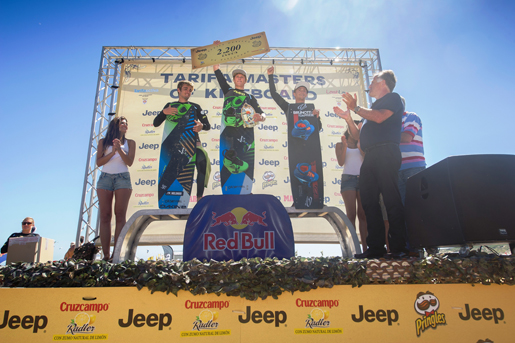 Liam Whaley, David Tonijuan and Patrick Blanc are delighted with their final positions.
This year current World Champion Alex Pastor was judging the championship rather than taking part, as he is still recovering from an injury. "I really want to compete again and, even though I've still got two months of recovery left, the worst is over. I'm 24 but I'd like to keep competing until I'm 30 at least," he explained.
Winner of the Wild Card Amateur Competition David Tonijuan.
Once again, Valdevaqueros beach was packed with fans who didn't want to miss out on this spectacular event in Tarifa, wind capital of the world.
Kite Surfing Lessons in Tarifa
Book Kite Surfing Lessons in Tarifa
Tarifa Championship Competition Reports