KITESURFING - Strapless
2017 - Tarifa Strapless Pro
The International Strapless Kitesurfing Pro Tour,  organised by the Global Kitesurf Association (GKA)   held the  Tarifa Strapless Pro, from the 28 June to 2nd July 2017 at Playa de Valdevaqueras. This was the first event of the 2017 GKA Kite-Surf World.  This was the third year the event has taken place at Valdevaqueras, Tarifa with a final on the first Sunday in July.  The event is one of the better organised and resourced in Tarifa and the backing from Town Hall, Cadiz province and Regional government must have helped. 

At the 2017 Tarifa Strapless Pro about 500 kite surf fans braved the 40 knot levante (easterly) winds that dominated the final day of the competition. The freestyle final took place on the Sunday morning and Airton Cozzolino of Italy was the winner. The judges decided to have a 'big air' (highest jump and longest time in the air)  competition in the afternoon in which local hero Gustavo Arrojo (originally for Almuñecar) came second in the 'big air' competition.   The video above was taken on the Sunday afternoon during the 'big air' competition.
Kite Surfing Lessons in Tarifa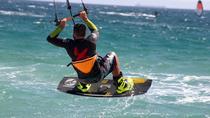 Kite Surfing Lessons in Tarifa
Enjoy private, semiprivate or group kitesurfing courses in Valdevaqueros and Los Lances in Tarifa. Beginners kitesurfing classes are designed by our IKO licensed instructors for kids, adults and seniors. Safety as the primary concern. All equipment and insurance is included and options with transportation are available.

CHAMPIONSHIP REPORTS