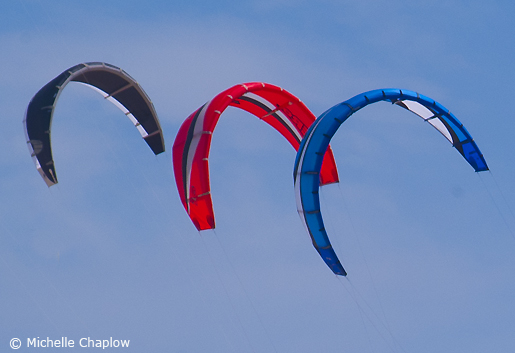 Colourful Kites.
THE RED BULL SKYRIDE TARIFA
This event took place at Playa los Lances, Tarifa, during the week leading up to the 1 May holiday 2009. Here the best kite surfers from all over the world gathered to pit themselves against the levante (east) and the poniente (west) winds. A week of action, competition and exhibitions during the day, and partying and fun at night. Thousands of spectators attend.
A typical recent Skyride event
The contest took place on the Los Lances beach in Tarifa (Cadiz), with 32 male and eight female participants. The programme had three disciplines:
Freestyle: surfing in front of judges and being scored according to performance

Hang Time: to find who can stay in the air longest

Best Trick: scored according to the best and most complex manoeuvre
Overall winners were Hawaiian Robby Naish and Spaniard Jaime Herráiz ('Oru'), with Naish coming first in the Freestyle section and Valencian 'Oru', who now lives in Tarifa, starring in the Best Tricks section. Rookie of the year went to Jose Luengo from Sevilla, who will also be invited to participate in the Red Bull Skyride in Maui (Hawaii) next October. From the ladies section, overall winner was Julie Prochaska (USA) followed by Caroline Duby (France) and Silke Gorlot (Germany).
Cross the Strait of Gibraltar from Tangers to Tarifa.
One of the highlights was the challenge to cross the Strait of Gibraltar from Tangers to Tarifa. Eight of the world's best kite surfers participated. First was Briton Mark Shinn, with a time of 1h 15 minutes, followed by Robby Naish, Mauricio Toscano (Mexico), Eduardo Bellini (Spain) Don Montague (Canada), Max Bo (Italy), Sebastian Cattelan (France) and Raschid Russaffi (Morocco). The race was spectacular, with an accompanying cavalcade of jet skis, boats with other fly surfers on board to offer help if needed, and a helicopter acting as an eye in the sky.
Kite Surfing Lessons in Tarifa
Book Kite Surfing Lessons in Tarifa
Tarifa Championship Competition Reports