Horseriding on the beach at sunset.
HORSERIDING
Many people dream of riding a horse along the beach, with their hair flying in the wind and the waves crashing around them, feeling a great sense of freedom.
Tarifa´s extensive chain of white sandy beaches provides an ideal spot for realizing this dream. Most beaches are several kilometers long, and those which are not immediately connected can be accessed easily via coastal paths, meaning that riders can cover a huge proportion of the coast unrestricted.
The Estrecho and Alcornocales Natural Parks provide mountainous and wooded inland opportunities for riding. Tarifa is amazingly undeveloped compared to areas further east, on the Costa del Sol, and its authentic rural real makes its various landscapes easy to jump between; in spots such as Bolonia, west of Tarifa, the sand dunes transition beautifully into a grove of umbrella pines, making for an easy exploratory ride.
The Hipica Centre at the Hurricane Hotel has many well-trained horses, and offers rides for beginners (1-2 hours), and experienced riders (3-5 hours), as well as providing all necessary equipment. Tel: 956 68 90 92.
Aventura Escuestre, further west, offer week-long training programs, starting at 2 hours/day for 5 days. This is an ideal option for anyone staying in the area for longer. Tel: 956 23 66 32.
For those interested, horse races take place annually in August on the beach at Sanlucar de Barrameda.
For more information about horseriding in Andalucia, see our horseriding section.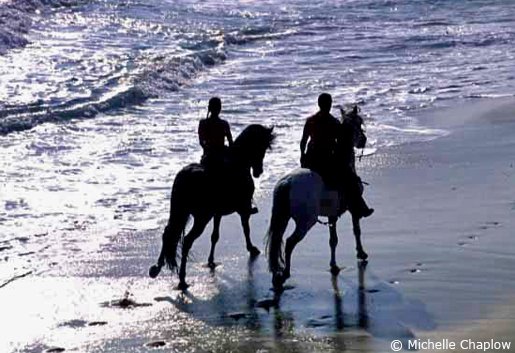 Riding along the beaches of Tarifa.
Riding lessons and riding courses in Spanish and classical riding style
Riding lessons and riding courses in Spanish and classical riding style
Riding lessons in Spanish riding or old-school dressage for beginners as well as advanced on well-trained school horses. Horse riding facilities are also available. Language of instruction: German, Spanish, French, Dutch, English After years of training and further education in different riding styles from classical to freedom dressage to working styles such as Doma Vaquera and Working Equitation, I found the fascination of riding in ease and detachment with minimal aid in the fine classic baroque riding style. I would like to pass on this philosophy to my students. In the magical ambience of the wild, Spanish south, it is easy to get in contact with the ancient horse culture. Tarifa combines everything that the rider's heart desires.

Destinations