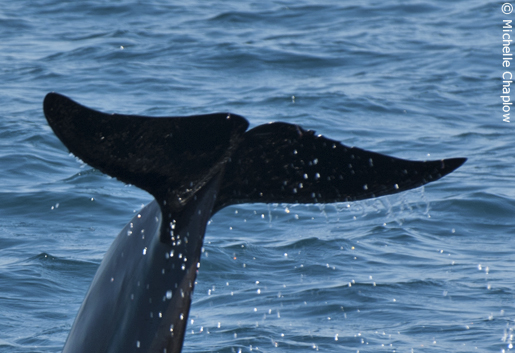 Whale-watching from Tarifa
A wonderful opportunity to get close to whales, dolphins and other sea mammals, in their natural habitat in the Straits of Gibraltar. This is the area of sea where where the Atlantic Ocean and Mediterranean Sea meet, in the narrow space between the southermost point of Spain, and the African continent.
Because this stretch of water is only 13 miles wide at its narrowest point, the concentration of cetaceans (whales) is very high, especially towards the middle. It is about three miles offshore that you find the larger creatures, such as the Minke Whale and Sperm Whale; they are often heading in a westerly direction. The prevailing surface current is easterly, and the cetaceans may be just swimming against the current flow, rather than travelling out of the Straits.
You can see these animals in this area of ocean throughout the year, in their natural habitat. Tour operators offer fun, informative trips for all ages and at reasonable prices, with live commentary to explain the behaviour of these fascinating mammals.
Rise of the Orcas
Orcas are always present on the Costa de la Luz and the Straights of Gibraltar waters, however it is the summer period when they are most visible. From mid July to mid September Orcas are most abundant in the Straights of Gibraltar because they are hunting the Tuna that passes through the Straights at this time of the year to reach the Atlantic. Reports from companies offering whale watching tours state that there are around fifty Killer Whales from five different families that patrol this narrow channel of water.
take the tour
Turmares, Firmm, Whale Watch, Aventura Tarifa and Aventura Marina are the companies that take individuals and groups on whale-watching expeditions out into the Straits of Gibraltar from Tarifa port.  The trips last a couple of hours on boats ranging from 20 persons to 100 persons. The cost is about 30€ per person. The boats operate from February or March to October or November. 
Day trips to see the dolphins
Book Day trips to see the dolphins
For more information see our dolphins and whale watching page.
See also our Gibraltar dolphin watching tours page.
Destinations