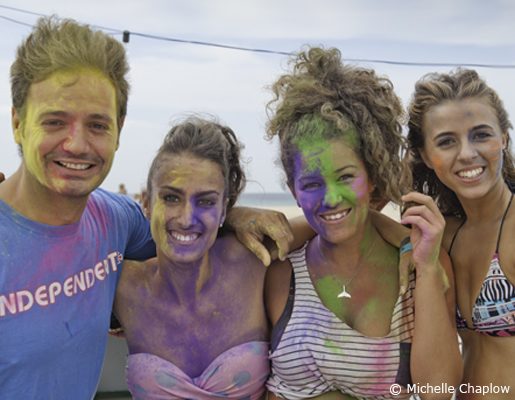 Nobody can resist this colourful festival.
FESTIVAL OF COLORS:  BE BOLD AND BRIGHT, DANCE - AND HELP CHILDREN IN INDIA


The Festival of Colors is an open-air event modelled on one of India's most ancient and colourful customs - the Hindu Holi festival. As spring arrives, people all around the country throw small bags with powdered paint, in vivid shades of pink, blue, green, and red; those who are coloured by the paint are considered to be blessed. The very first Holi In Andalucia took place at 'A Tu Aire' beach bar on Playa de los Lances Sur near Tarifa in September 2013.

At this new festival, life is celebrated with bold expressions of colour, to a soundtrack of DJs playing dance music. Every hour during the festival, the DJ announces the "colour time" and everyone throws their brightly-coloured powder into the air simultaneously. The effect is spectacular, not just visually but because of the emotional impact of taking part in a communal event with a large group of people in a vibrant atmosphere of peace and harmony.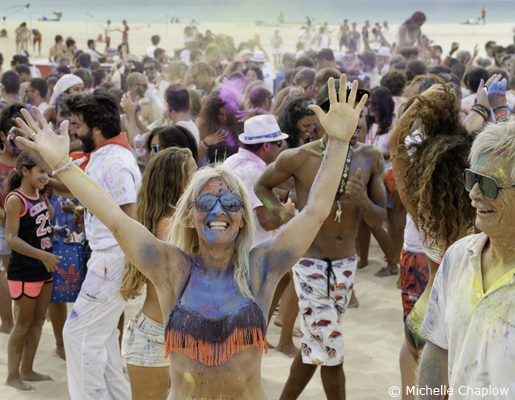 Share the Joy.
Those who take part can buy a 100g bag of powder for 2 euros, with part of the proceeds from this, and the drinks sold during the event, being donated to the Vicente Ferrer charity - see below. The festival is for over-18s only.
The idea is to celebrate life with colour, which symbolises happiness, and to show mutual respect and solidarity for those less fortunate. "Everyone who colours his skin is ready to colour his life. And a life with colour is a joyful life!"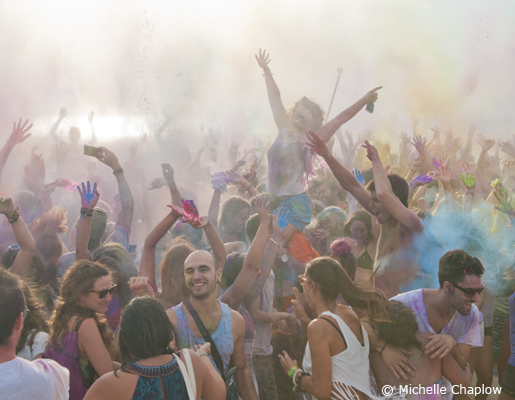 IF you take your camera, make sure it's well protected.
Practical tips:
Wear clothes you don't care about, or white clothes you want to keep as an artistic souvenir
Cover your camera and phone in plastic wrap; leave other valuables at home
Wear sunglasses to protect your eyes from the powder - it's non-toxic but could be uncomfortable
The Vicente Ferrer Foundation is a Spanish charity which works to improve the living conditions of the most disadvantaged in the state of Andhra Pradesh, in south-east India. Through its collaboration with the charity, Festival of Colours is aiming to build a community centre for the Chenchu tribe in Anantapur, India. Be sure to visit their website for more information or to donate: http://www.fundacionvicenteferrer.org/en/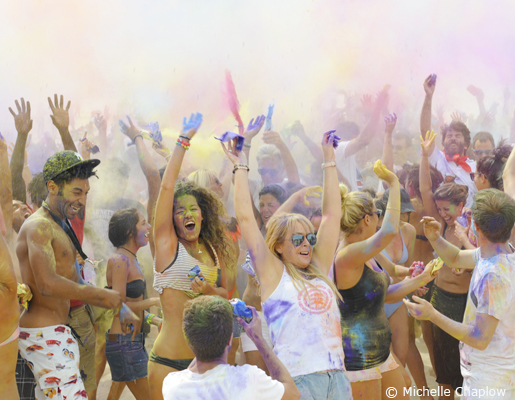 The perfect fun festival, go color yourself :)
Festival of Colors 2013
The first Festival of Colours in Spain took place in Tarifa in September 2013, a video from our YouTube Channel is feature below. Around 1200 people attended the multi-hued eight hour party on the beach.
Festival of Colors 2014
The second Festival of Colors took place in Seville on 17 May 2014 at Auditorio Rocio Jurado on Isla Cartuja. 
Festival of Colors 2015
Festival of Colour in Tarifa took place on 25th July 2015 in Tarifa football ground. It also took place in Mojacar at El Cielo on the 16th August 2015. In Malaga at the famous Baños del Carmen on 29th August 2015.