Scuba Diving
Tarifa makes a great base for scuba diving excursions, with its warm waters (15-20 degrees), good visibility and year-round sunshine. Ocean currents flow between the Mediterranean Sea and Atlantic Ocean, which meet just off the coast, encouraging a rich ecosystem.
Diving in the natural park of the Isla de las Palomas, you'll find an abundant selection of marine life, including star coral, moray eels, conger eels, octopus, scorpion fish, sun fish, rays, bream, sea perch, and anemones. You can also visit wrecks.
A diving permit is obligatory in Spanish waters. They cost approximately 7 Euros and are available from clubs and schools.
You can do a PADI course at several diving schools in Tarifa.
Kayak & Snorkel Tour in the Strait of Gibraltar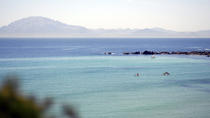 Kayak & Snorkel Tour in the Strait of Gibraltar
Enjoy three hours kayaking inside the Strait of Gibraltar and between the ancient Pillars of Hercules with Velair. The stunning views from Africa and mountain Jebel Mussa are impressive. The panoramic views of Strait of Gibraltar National Park are unique. The tour goes across cliffs, solitary calas, muntains and crystal clear waters. Even kayaking is a great fun , it could also be a joy to be on the water. We will enjoy a refreshing swim at La isla de la Paloma. Our journey continues towards Cala Arena, a perfect place for relaxing and dive in its clear waters.