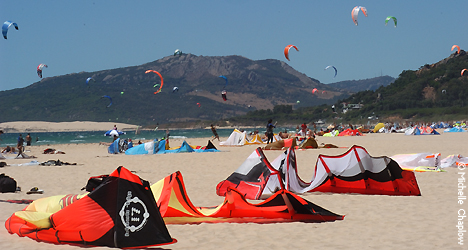 Kitesurfing on the Costa de la Luz - Tarifa is one of the top locations for the sport.
Kitesurfing
See our Tarifa Kitesurfing page
Kitesurfing is an extreme sport which involves racing over water on a surfboard pulled by a kite. Experts can achieve speeds of 80km per hour and leap into the air to perform somersaults and manoeuvres up to 40m above the water's surface.
Kites range in size from 5 to 15m2 and are used depending on the wind conditions. A small entry level kite costs 500 euro and a top brand large kite can cost around 2000 euro, while the small boards cost about 700 euro and the harness (which attaches you to the kite) about 150 euro.
The sport can be quite dangerous, and for this reason kitesurfers, windsurfers and bathers are separated by buoys in beaches popular with watersports enthusiasts such as Tarifa. The special danger of kitesurfing is that you could be whisked out into the Atlantic on a strong "levante" wind. Unlike windsurfing, if something like this happens, the board is too small to support a person.
A three-day course at one of the many licensed schools costing around 250 euros should be enough to let a beginner "fly solo".
Locations
Kitesurfing is practiced in most coastal locations in Andalucia - Tarifa and the Costa de la Luz, Costa del Sol, Costa Tropical and Costa Almeria.
Kite Surfing Lessons in Tarifa
Book Kite Surfing Lessons in Tarifa
Book Surf Hotels in Andalucia
Destinations