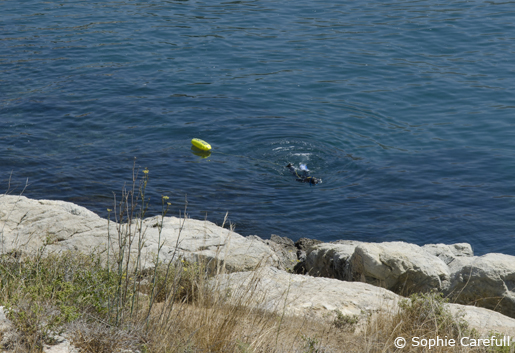 A diver exploring the cove of Playa del Pozuelo on the Costa Tropical.
Snorkelling and Diving
There's a whole world under the Mediterranean waves just waiting to be explored.

Snorkelling is something that pretty well anyone who can swim can do, with the minimum of equipment - basically, it's a snorkel, facemask and flippers and away you go. The relatively calm seas and gentle tides provide a perfect environment for face-down fun. Having said that, divers should always ensure that someone else knows they are in the water, and approximately where they are going to be, in case they do get into difficulties and need help.
Some sub-aqua divers feel the western part of the Med is too shallow close in shore to be really challenging and doesn't have the rocky undersea terrain, which attracts the greatest variety of species. This is true, to some extent, but there is still much to see and explore, particularly the closer one gets to the meeting point of the Atlantic and the Mediterranean.
Rugged coastline

Going eastwards, the coastline is much more rugged around Cabo de Gata, in Almeria, and on the Costa Tropical, at Almuñecar or Maro and Nerja on the eastern Costa del Sol.  At the wastern Costa del Sol popular sites are around Punta Paloma.
Diving along the andalucian coast
Dive sites provide a mix of rocky underwater landscapes, reefs and wrecks. The waters around Gibraltar especially, have a number of interesting wrecks. In terms of marine life, congers, groupers, seahorses, spider crabs, squid, lobster, trigger fish, sunfish and dolphins are plentiful.
A diving permit is obligatory in Spanish waters. They cost approximately 10 Euros and are available from clubs and schools.
PADI SCHOOLS
For those who want to learn how to scuba dive, there are many clubs up and down the coast. The single most popular diving course in the world is that offered by PADI, the Professional Association of Diving Instructors.
Diving in the Mediterranean
The PADI Open Water Diver course is divided into three sections - Classroom, Confined Water (pool) and four Open-Water scuba dives, with a fully qualified instructor. The course features audiovisual slides or a video, integrated with a manual, to make learning simple and fun. Complete student crew-pack kits, with everything needed to get started, are available.
After successfully completing the course, participants receive a PADI Open Water Diver certification card, an internationally-recognised credential, which allows holders to buy or rent scuba equipment, dive from charter boats and at dive resorts, and dive without an instructor present. It's also the first step to enrolling in a PADI Speciality course, or the PADI Advanced Open Water programme.
Kayak & Snorkel Tour in the Strait of Gibraltar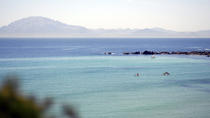 Kayak & Snorkel Tour in the Strait of Gibraltar
Enjoy three hours kayaking inside the Strait of Gibraltar and between the ancient Pillars of Hercules with Velair. The stunning views from Africa and mountain Jebel Mussa are impressive. The panoramic views of Strait of Gibraltar National Park are unique. The tour goes across cliffs, solitary calas, muntains and crystal clear waters. Even kayaking is a great fun , it could also be a joy to be on the water. We will enjoy a refreshing swim at La isla de la Paloma. Our journey continues towards Cala Arena, a perfect place for relaxing and dive in its clear waters.

Destinations