Water Sports
Book Watersports in Andalucia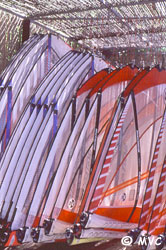 Windsurf sales in storage
Water Sports in Andalucia
Andalucía is a mecca for water sports, thanks to the proximity of the coastlines, as well as the numerous lakes and reservoirs. The most popular sports include sailing, windsurfing, water-skiing, jet-skiing, surfing and sub-aquatic sports. There are clubs for most water sports in all major Costa resorts and instruction is generally available.
Sailing and Motor boating
The great sailing tradition of Andalucía and the cleanliness of its waters and the warm climate make this coast a popular place in which to enjoy water-sports. From the Atlantic to the Mediterranean, the 836 km of Andalucían coastline are dotted with excellent facilities, that provide an excellent range of activities.
More >
Rowing and canoeing
Rowing and canoeing are possible on many lakes and rivers, where canoes and kayaks can usually be rented. There are marinas inland, at Sevilla and Gelves that support sailing in the River Guadalquivir near Sevilla and the mouth of the Guidalquivir near the Doñana National Park. There are also boating facilities near source of the Guadalquivir in Tranco de Beas Reservoir in the Nature Park of Cazorla, Segura (Jaén province), and also at Las Villas. There are similar facilities on the Iznájar Reservoir that covers parts of three provinces - Córdoba, Málaga and Granada.
More>
Windsurfing, Surfing and Kite Surfing
The varied coast line offers windsurfers at all levels the chance to practice this sport. Tarifa is a world class windsurfing location. It is on the annual world windsurfing championship circuit. Browse our related pages to learn more about windsurfing or surfing or Kite surfing in Andalucía.
Snorkeling and Diving
There are countless locations to dive along the coast in Andalucía.
More >
Fishing
Information about sea fishing and fresh water fishing and angling.
More >
Marinas
Information about the 30 Marinas of Andalucia.
More >