Andalucia is the perfect region to explore by 4x4
Motor Racing circuits
There are some exceptional motor racing facilities in Andalucía with the most important facilities located in the provinces of Cádiz, Málaga, Granada and Almería.
The international circuit at Jerez has held the Spanish Formula 1 Grand Prix, at other times is used for testing and practice by the F1 teams. It hold the Spanish Motorbike Grand Prix each May. For full information about race dates and ticket information from the 'Circuito de Jerez'.
Explore Andalucia at your own pace in a smart, new, stylish VW Westfalia campervan from 72 euro a day. FREE transfer to/from Malaga airport. 
Outside the scenic town of Ronda, is the Ascari racing facilities, club and academy which are named after the famous Alberto Ascari, who was the first world champion to win the Formula 1 race twice. Cars and track can be hired. 
In Granada, about 60 kilometres from the capital, near the village of Guadíx there is a small, private racing facility.
In Almería, not far from the city is another small private racing facility. It is mainly used for tyre testing. 
Andalucia Rally
The Andalucia Rally for cars and motorbikes now take place each May in Andalucia. More info>
Rally Sierra de Cadiz
The is an on road and off road event. The 20th edition took placeon the 18th and 19th of September 2015 in el Bosque, Benaocaz, Grazalema, Ubrique.  A club called Escuderia Sur organise this and 12 other events each year in Andalucia. One note worthy is the 32nd edition of the Subida de Vejer on 3 and 4th Oct 2015. More info www.escuderiasur.net
Vintage cars
Clubs hold occasional round Andalucía tours with veteran cars. There is no specific regular event
4x4 Vehicles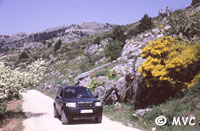 4x4 in the Sierra de las Nieves
4x4 vehicles have fast become almost 'de rigueur' on the Costa del Sol,  they can provide the most immense amount of fun and, at times, a truly challenging driving experience. It isn't necessary to travel far afield to make the most of a 4x4 vehicle. A mere 10 or 15 kilometres inland there are tracks, paths and, sometimes, almost-roads deep in forests, across streams, up hillsides, along valleys and dried-up riverbeds.
Most of the roads heading inland from the Costa del Sol will set you on the right track.
Head towards Coin, Ojen, or up the Ronda road. Explore the Parque Natural de las Nieves. If you do go further afield, check out our suggestions for motoring trips in Andalucia, which you can use as base from which to explore the hinterland.
Driving up through Ronda, and taking the road towards Seville for 15 or 20kms, will, for example, take you to an area in which you will find Ubrique, Grazalema, El Bosque, Prado del Rey, Villamartin, and a host of tiny, white villages dotted over some spectacular countryside.
Motoring Itineraries
In our travel itineraries section we present routes around the region. Click here.
Driving in Spain
For handy information about driving in Andalucia click here.
Doñana in 4x4 and Acantilados del Asperillo
Doñana in 4x4 and Acantilados del Asperillo
In this visit we combine the entrance to the Doñana National Park in 4x4 with the guided tour of El Rocio by a local guide who knows the traditions and culture of the place. We close our experience with a visit to the beautiful beach of the Parador where we will know the geological secrets of the impressive cliffs of Asperillo. This visit also allows us to enjoy the waters of the Atlantic Ocean before returning to Seville.

Destinations