Canyoning
Canyoning is an increasingly popular outdoor activity, or extreme sport, which involves descending gorges using a combination of walking, climbing, jumping, sliding, abseiling (rappelling), and swimming (or wading) in rivers and waterfalls. It is also a great way of exploring remote, spectacular scenery which may not be accessible on foot.
Andalucia, with its many mountain ranges and rivers, has numerous locations where you can do canyoning - the name in Spanish is barranquismo. Canyoners say it is highly exhilarating, an adrenalin buzz without being too insanely dangerous.

The locations for the sport are in and around river gorges, often with a series of pools linked by streams and chutes, which you slide down into clear water. Just imagine a water-park carved out of rocks by nature.

Canyons which offer ideal conditions for the sport are often cut into the bedrock stone (limestone, sandstone, granite or basalt), forming narrow gorges with numerous drops. The canyons can range in difficulty from very easy to extremely difficult, though it's more about enjoying your surroundings and having fun, and being close to nature, rather than the physical challenge. In Andalucia, you will often be in a protected natural park, which means peaceful surroundings with few buildings and little or no traffic.

Canyoning gear includes climbing hardware, ropes, helmets, wetsuits, and specially designed shoes, backpacks, and rope bags - climbing, hiking, and river-running gear, essentially. Today, more specialized canyoning gear can be bought as the activity finds an ever-larger following.

A wide variety of canyoning routes are found throughout Andalucia, and the sport is enjoyed by people of all ages and skill levels. However as with all sports you need to be aware of dangers, such as flash floods and sudden weather changes.

It's advisable to go with a trained guide in an organised group - often access into a natural park won't be granted without the correct licence. The season lasts from May to September, when the weather is warm and dry, although rivers and freshwater pools are cold, so wetsuits are advised.
Canyoning locations are mostly in Malaga and Granada provinces, and include the following:
Granada
Rio Verde in Almuñecar
Riofrio near Loja
Malaga
Cañón de las Buitreras.  
Angosturas in Guadalmina river near Benahavis
Jorox in the Sierra de las Nieves
Cadiz
Hiking Day Trip to La Garganta Verde and Zahara de la Sierra from Jerez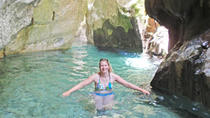 Hiking Day Trip to La Garganta Verde and Zahara de la Sierra from Jerez
Experience Cádiz's natural beauty on this private hiking day trip to La Garganta Verde and Zahara de la Sierra, from Jerez. Go on a 2-hour adventure hike through La Garganta Verde, a stunning gorge inside Grazalema Natural Park. The trail crosses a deep river, so swimming know-how, waterproof shoes, and swimsuits are recommended. Then visit the picturesque white village of Zahara de la Sierra, and admire panoramic views from its hilltop castle, overlooking Sierra de Grazalema Natural Park.

Canyoning in Andalucia: Rio Verde Canyon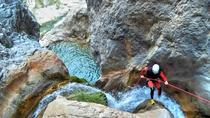 Canyoning in Andalucia: Rio Verde Canyon
Take to the most impressive canyon in Andalucia, Rio Verde Canyon, near Granada for 5-hour adventure. Learn to descend the canyon safely with the assistance of your knowledgeable guide and take a nice swim. Try a jump or slide. Relax in the beautiful forest while taking rest. Round-trip transfer service by a private, air-conditioned vehicle is included.

Destinations