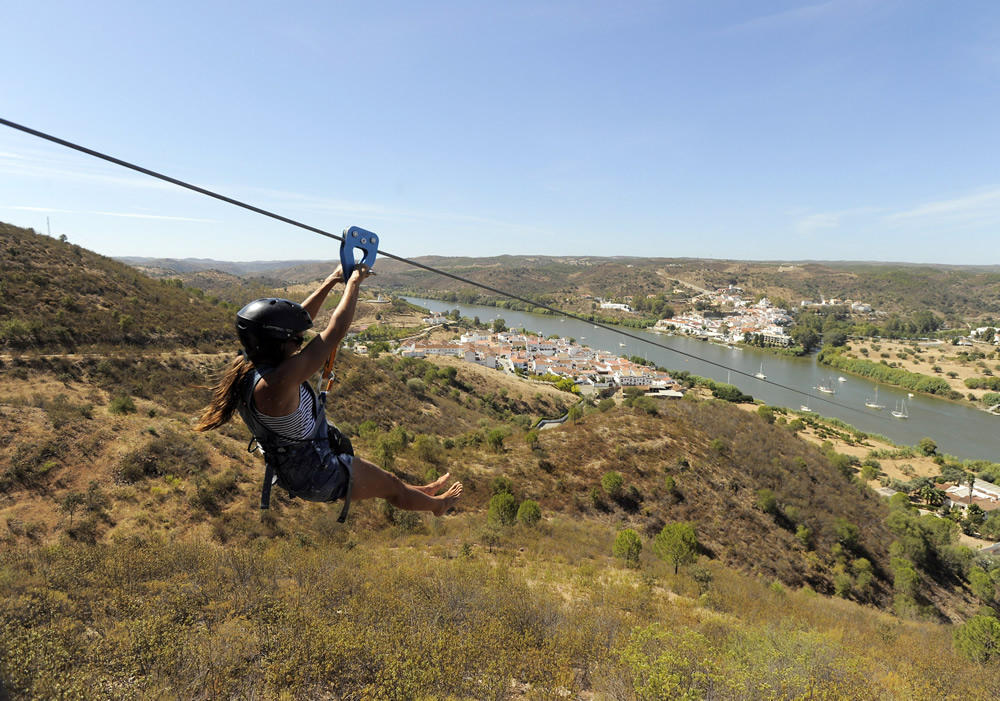 Looking for adventure? Make a bee line for the Zip lines in Andalucia. They can be found at Sanlúcar de Guadiana, Comares, Comares, Elviria, Marbella and Fuengirola.
Zip Line's in Andalucia
Sanlúcar de Guadiana - 720 m
Sanlúcar de Guadiana has an activity group called Limitezero that offers the only cross-border zip line in the world. At 720m long it provides its visitors with a unique, unforgettable experience crossing over the River Guadiana from Spain to Portugal.    More >
Comares - 436 m
Comares in La Axarquia  has a zip line from the village to the hill opposite. It is located next to the Via Ferrata la Fuente Gorda to the north of the village. It is an exciting  436 metres long. Open all year, under reservation. Cost of a ride is 20€ but a minimum group of ten is needed. To enquire call +34 697 218 289.


Casares - 300 m
A zip line just outside the village of Casares runs for 300 m at a maximum height of 80 m. It runs from the  El Chaparral viewpoint at Puerto de la Cruz, down to Las Penuelas at the end of Calle Molinos. Opened in late 2017.  Cost is 12 € a ride, 10 € for large families or youth card holders and 6 € for residents in Casares. Tickets from Blas Infante House (to enquire call + 34 952 89 55 21). Open only Saturday and Sundays, from 10:00 - 15:00.  
Elviria, Marbella - 240 m
Aventura Amazonia (Amazonia Adventure) park in Elviria district east of Marbella town (A-7 km 191) has 20 zip-lines. The longest in the treetops  is 240m in length. Cost is 17€ to 20€ for Kids and 21€ to 24€ for adults depending on season. The opening times change during the year, in general it is from 10:00 to 20:00.To enquire call +34 952 83 55 05 / 625 08 93 20.
Fuengirola - 100 m
A zip line in Fuengirola runs across the mouth of the River Fuengirola next to the castle at the west  end of the town beach.  It is part of the Parque Multiaventura Castillo Sohail. Cost per ride is 6€ Open Sundays from 11:00 to 18:00 (to enquire call +34 952 47 27 19 / 646 12 16 10).
Zip Line's outside Andalucia
The largest zip line in Europe is in northern Spain. In a town called Hoz de Jaca, Huesca. It is in the Valley of Tena and the zip-line measures 950 metres in length and it runs over the Búbal resevoir. The slope of the zip line is 115 metres and actually there are two paralelel zip-lines.
Destinations