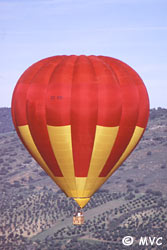 Balloon over olive groves
Balloon flights
There can be few better ways to appreciate the sheer beauty of the Andalusian countryside than from a hot air balloon.
Combine this bird's eye view with the tranquility and peace derived from being high above humanity - with just the clouds for company - and it is not difficult to see the appeal of the sport.
Hot air ballooning is becoming increasingly popular among all ages, and backgrounds. For some it is the ultimate romantic present for a partner, while others are attracted by the incomparable sensation of floating high above land.
The climate and stunning rural backcountry of Andalucía makes this region ideal for hot air ballooning. Thus, it comes as no surprise that this is also one of the most popular European destinations for would be balloon pilots to fly in ideal conditions and gain the vital experience they need to receive their flying qualification.
There are several companies offering passenger balloon rides on a regular basis outside Seville and Granada. They follow in the footsteps of Grahame Elson of Aviacion del Sol who pioneered this sport in Ronda in the 1990s.
From 1992 to 2003 Aviacion del Sol SL flew passengers over the famous Ronda bullring, into the 'tajo' gorge and over the Roman ruins of Acinipo with the white villages and fields of sunflowers beyond. These were memorable experiences and many people fell under the spell of Andalucia as a result. Apart from the tourist flights, Graham Elson, a British CAA Examiner, set up a training school in Ronda for would-be pilots with students arriving from all over Europe to benefit from the good weather and flying conditions. Under the banner of the Lindstrand Balloon School, over 150 students took part. The famous adventurer Per Lindstrand, flew across the Atlantic and Pacific Oceans with Richard Branson and holds many world records. Per Lindstrand, the adventurer, continues to advance his aeronautical engineering company in the UK.
Book Balloon rides
Destinations