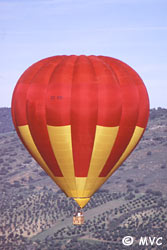 Balloon over olive groves
Ballooning
There can be few better ways to appreciate the sheer beauty of the Andalusian countryside than from a hot air balloon.
Combine this bird's eye view with the tranquility and peace derived from being high above humanity - with just the clouds for company - and it is not difficult to see the appeal of the sport.
Hot air ballooning is becoming increasingly popular among all ages, sexes and backgrounds. For some it is the ultimate romantic present for a partner, while others are attracted by the incomparable sensation of floating high above land.
The climate and stunning rural backcountry of Andalucía makes this region ideal for hot air ballooning. Thus, it comes as no surprise that this is one of the most popular European destinations for would be balloon pilots to clock up more hours and gain the vital experience they need to receive their essential flying qualification.
Seville Hot-Air Balloon Ride

As you drift through the peaceful morning skies, enjoy panoramic views of the dramatic countryside that surrounds Seville.
From 205 Euro.

Granada Hot-Air Balloon Ride
See the sun rise over Granada on a hot-air balloon ride! Fly above attractions like the Alhambra and Sacromonte caves, touch back down in time for breakfast.
From 205 Euro.

Destinations