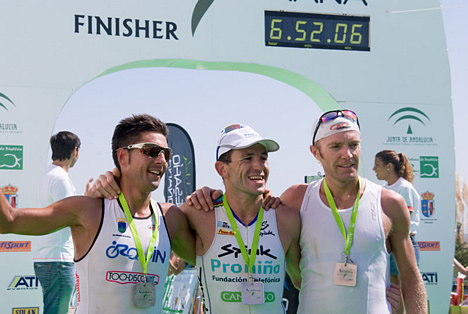 Men's Category winners Desafio Doñana 2011
Triathlon Andalucia 
There are actually about 30 triathlon events every year in Andalucia, which are held between February and November, including during the hot summer months. Desafio Doñana is the flagship event organised by the sports agency of the regional government. Others take place in locations in western and central Andalucian coastal areas, such as in Punta Umbria, Rota, Malaga, Chiclana and Estepona. Some triathlons are specifically for juniors. Most events are coordinated by the organization Federation Andaluza de Triatlon. (www.triatlonandalucia.org)   Triathlon Cros is a comptition with mountain bike instead of road bike section.
There is just one full distance triathlon event in Andalucia; the Iberman. It name is similar to 'Ironman' in that it refers to Ironman as a distance measure rather than an affiliation.   The Ironman brand strictly refers to long-distance triathlon races organized by the World Triathlon Corporation (WTC). There are about 15 Ironman's in Europe a year and perhaps three in Spain; Barcelona, Lanzerote, Mallorca. The Ironman's maintain the full distances set when the triathlon was re-introduced in Californina in the 1970's, consisting of a 2.4-mile (3.86 km) swim, a 112-mile (180.25 km) bicycle ride and a marathon 26.2-mile (42.2 km) run, raced in that order and without a break.  
Olympic distance Triathlons are the same as the 1.500m swim, 40 km cycle and 10km run. There are also sprint triathlons and junior triathlons in many towns in Andalucia. 
The 'Circuit Andalucia de Triathlon" features five or six events each year and the points awarded in each count towards the Andalucian title.  There is also the Circuito Andaluz de Duatlón, Circuito Andaluz de Duatlón de Menores, Circuito Andaluz de Triatlón, Circuito Andaluz de Triatlón de Menores y Copa de Andalucía de Duatlón Cros. 
Here is our selection of Andalucia's top Triathlons in the year. These races tend to keep to the same weekend each year, hence we leave past events on the page as a guide to next years date. 
Marbella Ironman 70.3
Marbella Ironman Dates 2021

19 September 2021
(Confirmed by the Town Hall
The inaugural Marbella Ironman 70.3 took place on Sunday  28th April 2018. The second edition took place on Sunday 27th April 2019. The 2020 edition was cancelled.
The race consists of a 1.900m swim at the Levante (eastern) beach of Puerto Banus, a first transition on the Avenida de Naciones Unidas. A 90 km cycle up the Puerto de Ojen, continue on to pass Monda, pass Coin, reach Cartama and return same route to Puerto Banus for the second transitions. The 21km run will be an twice out out and twice return along Marbella seafront promenade from Puerto Banus to Trocadero (Rio Real)
The 70.3 is the Ironman brand for a half the distance of the full ironman race being 70.3 miles or 113 km. There are about 40 full ironman races a year and 100 half Ironman 70.3 races a year all around the world.
Marbella Ironman 2019
In the second Ironman Marbella in 2019 the winner was Andreas Dreitz (Germany) in just under four hours at 3:56:48, second was Alistair Brownlee (Great Britain) in 4:01:00, third Domenico Passuello (Italy) in 4:03:40. 2.047 competitors finished in under 8 hrs.
Marbella Ironman 2018
In the inaugural Ironman Marbella in 2018 the winner was David Mcnamee (Great Britain) in just under four hours at 3:57:46, second Chris Leiferman (USA) in 3:57:46, third Andreas Dreitz (Germany) in 3:58:41. 2.281 competitors finished in under 8 hrs.
FULL IRONMAN DISTANCE
Iberman Larga Distancia, Huelva & Portugal - Only full Ironman distance (3.8km swim, 180km cycle, 42km run ) race in Andalucia. The international race starts with a swim in the sea at Ayamonte, cycle inland and into the Guadiana river valley crossing over into Portugal at the second bridge after Granado at Pomarao and returning to Villa Real on the coast for the transition T2. The running section crosses the impressive international suspension bridge of the A-22 / A-49 motorway back in to Huelva, Spain and the finish line is on the Paseo de España in Ayamonte. 19th October 2019.
Iberman larga Distancia Video
Long Distance Triathlons
Andalucía Desafío Doñana
Andalucía Desafío Doñana (Andalucia Doñana Challenge) is perhaps the most interesting in Andalucia. It started in 2010 and takes place each year on about the second saturday in September, although it is 30th September 2017.   The triathlon covers 100 km, starting in Sanlucar de Barrameda with a cycle circuit, then a swim accross the Guadalquivir estuary.  The highlight of this annual triathlon event is the 30 km running section along the endless virgin beach of Doñana National Park. Early editions finished in Matalascañas but more recent  editions, for easier logistics, feature a return route and finish opposite Sanlucar. 2019 edition will take place 21st September.   More>
Triathlon de Sevilla
Its XXIII edition will take place on May the 19th of 2019. There will be 3 different categories: Olympic, sprint and super sprint. The Olympic category has 1'5 km to swim, 39'05 km by bike and 9'6 km to run. The exit zone will be located at C.E.A.R. from the Isla de la Cartuja and the arrival area in the Nave del Parque del Alamillo.
On April the 6th of 2019, the VI edition of the Nutrisport Half Triathlon took place in Sevilla.
Cabo de Gata Nijar
More than 1.000 runners from all over the globe have completed this race which is one of the most spectacular locations in Andalucia, perhaps Spain. 1.9km swim, 80km cycle, 21km run. Swim in the bay at San Jose, Cycle to Agua Amarga and back to San Jose, run inland on the ALP-822 passing famous beaches of Monsul and Genoveses up to the watchtower at the top of Vela Blanca. 2019 Edition will take place 20th October.
Caminito del Rey, Ardales, El Burgo
This race is in its fourth edition on the 19 May 2019, and has been created to capitalise on the success of the Caminito de Rey footpath which was re-opened in 2015. The race is 1.9 km swim, 90 km cycle and 21 km run.   The 1900m swim is in the Embalse de Guadalhorse in an inlet near the Mirador (near the start of Caminito del Rey) the swim requires turning around two buoys and returning to the start point. The first transition is in the parking of Zona 3 of Camping Parque Ardales.  The 90k Cycle is via Ardales, El Burgo, turning round at Serrato and returning to Ardales for the second  transition and 21km run around the town. This race has in effect replaced the 'Triathlon Medio Ironman el Chorro' which was in 7th edition in 2015. It was a half Ironman with 1900m swim, 90 km cycle and 21km run. 


Triatlón Titan Sierra de Cádiz,
Algodonales. 2km swim, 90km cycle, 21km run,  135 competitors. 23rd Sept 2017. The 2018 edition was canceled and it is looking unlikely that 2019 edition will be held.
OLYMPIC distance Triathlons IN ANDALUCIA
DX2 Costa del Sol 1.5 km swim, 42km cycle, 5km run. This race now headlined as the DX2 INACUA Costa del Sol Triathlon has been for the previous 22 editioins the Torre del Mar Triathlon.  30th April 2017   

XXX Triathlon Cuidad de Chiclana. .   1.5km swim, 40km cycle, 10km run.  21st May 2017

II Triatlon de Los Pedroches.   1.5km swim, 37km cycle, 10km run.   3rd June 2017 

XII Triatlon Cuidad de Almeria. 1.5km swim, 40km cycle, 10km run. 4th June 2017

II Triatlon "Huelva Puerto de Descubrimiento" 1.5km swim, 40km cycle, 10km run.  10th June 2017.

V Triatlon Arenas del Rey. Bermajales, Granada. 1.5km swim, 40km cycle, 10km run.  18th June 2017.

II Triatlon Zahara de la Sierra 1.5km swim, 40km cycle, 10km run. Swim a three sided 500m triangle starting form near the dam. Cycle through Zahara over Puerto de las Palomas through Grazalema and returning by the lake. Run by the lake and finishing in the centre of Zahara.  24th June 2017

V Triatlon Trigranada Lecrin 1.5km swim, 37.5km cycle, 9km run. Swim in a triangle in Embalse de Beznar, cycle up the 7% climb up to Pinos del Valle and then climb up Albuñuelas and then Puerto de Cónchar making a total climb of 900m to Lecrin. Run down to the lake and follow a circuit that include a lakeside path finishing at Chite. 3rd September 2017
Triatlón Mar de Pulpí 2017 1.5km swim, 37.5km cycle and 10km run. Takes place on the sea front just west of the river Pulpi near the slightly inland Pulpi village in Almeria. Various races including sprints, and partners. Main event is the Olympic distance traithon. Event established and running since 2010.  Date is 2nd september 2017.   
OTHER TRIATHLONs
Triatlón GOTRI ciudad de Marbella - 14th May 2017
XII Triatlón Ciudad de Almería  - 4th June 2017


VI Campeonato de España de Triatlón,   Posadas (Cordoba) - 20th August  2017
XIII Triatlon Titan Sierra de Cadiz - 23rd September 2017
VI Triatlón Olímpico Cabo de Gata - Nijar - 22th October 2017
See also our page on Endurance Running and Cycling events in Andalucia