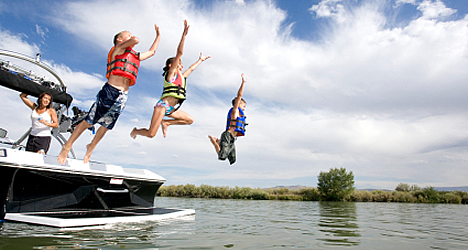 Wild Swimming
One of the latest trends in adventure sports, or more daring or unusual outdoor activities, is wild swimming (bañarse/nadar en plena naturaleza in Spanish). This means swimming in any water, though more usually freshwater rather than saltwater. It is, basically, just new terminology for what many have already been doing for years: taking a dip in the sea, or a river, lake, lagoon, reservoir, pool or waterfall. But the difference is, these locations are not your average playa; they tend to be secluded without facilities (no chiringuitos or public toilets) and therefore uncrowded - which is exactly what attracts people to wild swimming: its quiet and magical quality, getting close to nature. You often have to walk through woodland or over hills to find your ideal dipping spot, but the reward is that you're likely to have it to yourself.
With its spectacular landscape and countless natural water sources, plus warm temperatures all the year round, Andalucia is the ideal destination for this sport.
Some prefer to wear a wetsuit to keep them warm in icy freshwater lakes, while others go au naturel and skinnydip - Andalucia caters extremely well to naturists in general. You can even take your snorkel to look at all the fish and other creatures living in your chosen pool. While rivers have currents, lakes tend to have placid waters, making them ideal for those who aren't keen on being knocked about by waves or getting stuck by tides.
The most important - and obvious - point is that you must be able to swim. Countless people drown every year in lakes and rivers during Spain's hottest months - they go in to cool off, and then suddenly realise they're out of their depth and can't swim. Also be sure to look out for litter, as you need to remember that these places don't have a Blue Flag system, so you don't know what you might be floating in the water.
Where can I go wild swimming in Andalucia?
The entire region is dotted with lakes and reservoirs, criss-crossed with rivers and, of course, is skirted by a long coastline. Whichever province you're in, you will find a place in Andalucia for wild swimming.
Seville province
There are several lakes which are ideal for this pastime, as well as rivers in the Sierra Norte such as the Hueznar. There is even a river beach, complete with sunloungers, on the Rio Galindon in San Nicolas del Puerto - too formal for purist wild swimmers, perhaps. At Cascadas de Hueznar, you can swim in the waterfalls, while Los Lagos del Serrano are close to Seville city, near Guillena.


Huelva province
Huelva offers lakes in the Sierra Morena, most notably in the Parque Natural Sierra de Aracena y Picos de Aroche.

Malaga Province
One of the best provinces for wild swimming is Malaga, with its many lakes and rivers. Top spots include the Rio Genal (try by the Venta San Juan) in the Serrania de Ronda.

Granada province
Granada province, the Rio Verde is popular, as is Lake Negratin, near Zujar.

Cordoba province
Stretching across Malaga, Cordoba and Granada provinces, the stunning 30km reservoir next to Iznajar offers the choice of secluded coves, or beach and restaurant.

Cadiz Province
In Cadiz, Lake Zahara offers spectacular views of the Sierra de Grazalema; another reservoir for swimming in is the Lago de Arcos next to Arcos de la Frontera.

Jaen Province 
Jaen province has possible wild swimming locations at Segura, and Tranco de Beas Reservoir on the Guadalquivir in the Sierra de Cazorla, where you'll also find Lake Achuricas, near the meeting of the rivers Segura and Madera. The Rio Borosa has a delightful swimming spot, at the Charco de la Cuna.
RIVER WALKING IN ANDALUCIA
In Andalucia there are many rivers where you can enjoy a pleasant walk and a relaxing swim surrounded by nature. The best time is undoubtedly summer, although it is also an option in late spring or early autumn. More>
Wild Swimming Spain - BOOK
Wild Swimming Spain: Discover the Most Beautiful Rivers, Lakes and Waterfalls of Spain
Discover over 150 magical places to swim and explore in Spain. With stunning photography this book reveals the best crystal mountain lakes, secluded lake-side beaches, and turquoise pools hidden deep in waterfall-filled gorges. With recommendations for places to camp and eat this is all you need to take you off the beaten track.Chapter 11 covers Andalucia and includes giudes to:
 
Around Jaen: Embalse del Negratin, Embalse de la Bolera, Embalse de Rumbar.
Around Granada: Granada:  Rio Verde.
Around Bermejales and Nerja: Embalse de Bermejales, La Resinera, Rio Chillar.
Around Malaga; Embalse de Viñuela, Embalse del Conde de Guadalhorse, Embalse de Iznajar.
Around Marbella; Rio Guadalmina, Charca de las Mozas, Embalse de la Concepcion, Chaerca del Canalón.
Around Ronda and Genal Valley; Gueva del Gato, Rio Genal, Gaucin, Benarraba.  
Destinations