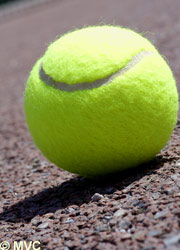 Tennis remains consistently popular
Tennis - Costa del Sol
Andalucía's Costa del Sol is not only the Costa del Golf but also provides the ideal combination of climate, coast and countryside for virtually any other major sport you can think of, ranging from para-gliding to polo. With year-round sunshine, low rainfall, and warm temperatures, the area is the destination of choice for many tennis players to train year-round, from top international professionals to local club enthusiasts.
Tennis remains consistently popular and attracts players of all ages. It is an easy sport to learn, popular with children and very sociable, with local clubs offering coaching, individual or group classes, and leagues in singles and doubles, men's, women's and mixed. Once you've mastered the basics strokes of serve, volley, forehand and backhand, you can always find others to play with, from a gentle knock-up to fiercely competitive doubles matches. The after-match socialising and analysis can be as much fun as the actual playing.
2023 International Tennis Competitions - Davis Cup and Billie Jean King Cup Finals both in Andalucia
The mild climate also attracts major international competitions to the area, both on the Costa del Sol and in major inland cities. In 2023, the two top global team events in the tennis calendar are both holding their finals in the region (see Tennis Tournaments in Andalucia, below).
According to Segar, tennis coach at El Madroñal Tennis Club in San Pedro de Alcántara, the great advantage of the game is 'the ability for anybody at any level to play and enjoy at a reasonable price for court and equipment'. In his opinion, the tennis facilities here have inspired many great players in the past and attracted at least one great player today - Manolo Santana, the former French, US and Wimbledon Champion, hosts the Marbella open tournament each summer at his Raquets Club near PuertoBanús.
The main reason for the success of tennis in Andalucía is the most obvious one - the weather. Tennis can be played year round here, aside from the few weeks (or less) of wet weather between November and April. Most of the courts have floodlighting for evening play and several important tournaments are held here annually. Most of the region's better hotels (from three to five star) have tennis courts included in their facilities. Aside from the hotels, there are private clubs, a selection of which are included here.
The cost of a tennis class to hone your service game and work on that tricky backhand obviously varies, but averages from between 20 to 30 euros for a one-hour private class, and can be as low as just six euros if you enrol in a group session.
Tennis Clubs on the Costa del Sol
Miraflores
Miraflores is located halfway between Marbella and Fuengirola, has all-weather courts and the club organises round-robin Sunday tournaments, as do most clubs. These are great fun, as you simply turn up and play. If you don't have a doubles partner, the clubs will match you with someone of equal ability. You normally get to play four or five sets in a friendly atmosphere, maybe win a T-shirt and have drinks and a snack afterwards. Urbanización Miraflores A-7 km 199. Tel 952 932 006
International Tennis Club
The club is open to the public without the need to be a member. They offer rental of tennis and paddle tennis courts, children's tennis school, private tennis/paddle lessons with top-level teachers or organised matches with players of a similar level. C. Río Elba, 29660 Marbella, Málaga Tel 952813341
Puente Romano Hotel Club
At the Puente Romano Hotel Club, group lessons are available for children, with a maximum of four to a class, for 60 euro a month. This buys two lessons a week of one hour each, which works out at eight euros per hour. Full membership of the club for adults is 720 euros a year for paddle and proper tennis, with a spouse qualifying for a 50% discount, a first child under 14 at 180 euro and subsequent youngsters at 120 euros each. Lessons for adult club members are 25 euro for 50 minutes and 40 euro for hotel guests. There are ten Tennis Courts and four pádel courts  . It is located on the 'Golden mile' between Marbella and Puerto Banús at km 177. Tel 952 820 900
Tennis Brothers Marbella Club
They offer private lessons, group lessons and rentals on clay courts. PC1 Aloha, C. de las Torres, 1C, 29660 Marbella, Málaga Tel: 603605297
El Casco Tennis Club
El Casco Tennis Club has six clay and four hard courts. Membership, restaurant and accommodation are all available. Urb. El Rosario, km188 on the N340. Tel 952 837 651
Club de Tenis Troyanos Tennis Academy
At Club de Tenis Troyanos Tennis Academy player of all ages and skills are catered for. The club offers tailored lessons designed to address your specific goals, strengths, and areas for improvement. C. del Priorato, 29688 Estepona, Málaga Tel 607703948
Club Nuevo Alcántara
Club Nuevo Alcántara is located in the Heart of this new urbanisation. Four tennis and nine pádel courts. Tel 952 788 315
Manolo Santana Raquets Club
Manolo Santana, the former French, US and Wimbledon champion, hosts the Marbella open tournament here each summer. There are six tennis courts and two paddle courts Located between Marbella and Puerto Banús north of the Golden Mile on the Carreterra de Istan km 2. Tel: 952 778 580
Club De Tenis Y Padel Bel Air
Bel-Air Tennis and Padel have programs from kids to adults and beginners to semi-professionals. All this in a family club atmosphere with modern facilities and qualified coaching. C. del Tenis, s/n, 29688 Bel-Air, Málaga Tel 952883221
Lew Hoad Tennis Club
Located between Fuengirola and Mijas. Founded by the late great Australian Wimbledon winner. Careterra de Mijas km3.5. Tel 952 474 858
Puente Romano
Puente Romano has eight floodlit clay courts, two floodlit hard courts, four paddle courts and a well-equipped indoor and outdoor gym. Conjunto Jardín Andaluz, 4, 29602 Marbella, Málaga Tel 952826103
Royal Tennis Club Marbella
The Royal Tennis Club Marbella provides a wide range of services for their visitors. Ground tennis courts, a gym, bar-restaurant, racket rental, racket stringing, tennis school and consultation with our qualified instructors. Carretera CADIZ (ELVIRIA), 188, BAJO, 29604 Marbella, Málaga Tel 687665084
Club de Tenis y Padel Estepona
The Estepona Tennis Club is made up of eleven tennis courts, five are clay courts and another six are hard surfaces.C. Sidney, s/n, 29680 Estepona, Málaga Tel 952801579
San Luis Club Tenis y Padel
San Luis Club tenis y padel offers lessons and court rentals to children and adults. C. Arriate, km 0, 8, 29400 Ronda, Málaga Tel 609555454
Daryl Collins Algarrobo Tennis and Country Club
Daryl Collins Pickleball and Tennis Academy includes 2 clay courts, 3 hard courts, and 4 pickleball courts (pickleball is a paddle sport combining tennis, badminton and ping-pong), all with lights. Urb. Haza del Algarrobo, 29650 Mijas, Málaga Tel 633063156
Tennis Tournaments in Andalucia
Davis Cup Final 8, 21-26 November 2023
Malaga plays host to the final stage - seven team meetings in total, featuring the last eight teams - of this men's international competition. Described as the World Cup of tennis, it features the world's 18 top-ranked national teams (known as the World Group). The action at Malaga's Palacio de Deportes José Maria Martin Carpena starts with four quarter-final ties (elimination matches) on 21-23 November 2023: Canada, the current world champions, take on Finland on 21 November, while Czechia compete against Australia (22 November); on 23 November, Italy play the Netherlands, and Serbia face Britain.
The semi-finals will take place on 24 and 25 November and the final on 26 November, with the winning team crowned Davis Cup Champions.
Billie Jean King Cup Finals, 7-12 November 2023
Seville plays host to the finals of the women's Davis Cup equivalent, renamed after the iconic American champion in 2020. In 2023, a record 134 nations have entered the tournament, making it the world's largest annual international team competition in women's sport. Play starts on 7 November 2023 at the Estadio La Cartuja, with 12 teams competing. Switzerland, as 2022 world champions, and Australia, as last year's runners-up, qualified automatically; they are joined by the nine winners of the 2023 Qualifiers: Canada, Czechia, France, Germany, Italy, Kazakhstan, Slovenia, Spain and USA, along with wild card Poland.
These 12 teams are divided into four groups of three, in which all teams play each other (7-10 November). The four group winners go on to the semi-finals (11 November), before the final two fight it out for the top spot as world champion (12 November).
Davis Cup 2011
Spain won the Davis Cup Finals in 2'011 at the Olympic Stadium in Seville (beating Argentina) on 2-4 December 2011. The semi-finals took place in Cordoba on 16-18 September where the team beat France.  
Davis Cup 2009
Spain won the 2009 Davis Cup in Barcelona (beating Czech Republic). The quarter-finals took place in Marbella on 10-12 July 2009 where the Spanish team beat Germany.
Andalucia Tennis Experience  (2009 -2011)
A professional women´s tennis tournament played outdoor on clay courts. The event at the Puente Romano Club in Marbella, inaugurated in 2009 was affiliated with the women´s Tennis Association as an international tournament on the WTA tour. Prize money was $500.000 and the draw was for 32 players. In 2009 it was won by Jelena Jankovic (Serbia), in 2010 by Flavia Pennetta (Italy), in 2011 by Victoria Azarenka (Belarus). The event was heavily supported by the agency of the Andalucia Regional Governement who decided for economic and political reasons not to continue and the 2012 event was cancelled, and in 2013 the tournament abolished. 
Marbella Copa Hola (2007)
One of tournament. Read our report.
Nations Senior Cup (2004 to 2007)
Event hosted at the Puente Romano Tennis club with the participation of John McEnroe, Boris Becker, Emilio Sanchez Vicario, Mats Wilander, Jim Courier, Thomas Muster, Yannick North. 
Davis Cup 2004
Spain won the Davis Cup at the Olympic Stadium Seville (beating USA) on 3rd to 5th December 2004. 
Davis Cup 2003
Spain were beaten by Australia in the final of Davis Cup in Melbourne in November 2003  The Semi finals took place in Malaga over 19th to 21st September where Spain beat Argentina.
Davis Cup 2000
Spain won the Davis Cup in Barcelona (beating Australia) November 2000. The Quarter finals took place in Malaga over 7th to 9th April where Spain beat Russia.
Davis Cup Final (1988)
Spain beat Mexico in the Davis cup final of 1988 at the Puente Romano Tennis club.
Destinations