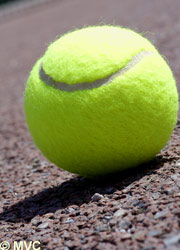 Tennis remains consistentlypopular
Tennis
Andalucía's Costa del Sol is not only the Costa del Golf but also provides the ideal combination of climate, coast and countryside forvirtually any other major sport you can think of, ranging from para-gliding to polo. Among these, tennis remains consistently popularand attracts players of all ages.
According to Segar Bastard, tennis coach at El Madroñal Tennis Club in San Pedro de Alcántara, the great advantage of the game is'the ability for anybody at any level to play and enjoy at a reasonable price for court and equipment'. In his opinion, the tennisfacilities here have inspired many great players in the past and attracted at least one great player today - Manolo Santana, theformer French, US and Wimbledon Champion, hosts the Marbella open tournament each summer at his Raquets Club near PuertoBanús.
The main reason for the success of tennis in Andalucía is the most obvious one - the weather. Tennis can be played year round here,aside from the few weeks (or less) of wet weather between November and April. Most of the courts have floodlighting for evening playand several important tournaments are held here annually. Most of the region's better hotels (from three to five star) have tenniscourts included in their facilities. Aside from the hotels, there are private clubs, a selection of which are included here.
The cost of a tennis class obviously varies, but averages from between 20 to 30 euros for a one-hour private class, and can be as lowas just six euros if you enrol in a group session.
Tennis Clubs
Miraflores
Miraflores is located halfway between Marbella and Fuengirola, has all-weather courts and the club organises round-robin Sunday tournaments, as do most clubs. Theseare great fun, as you simply turn up and play. If you don't have a doubles partner, the clubs will match you with someone of equal ability. You normally get to play four orfive sets in a friendly atmosphere, maybe win a T-shirt and have drinks and a snack afterwards.
Urbanizacion Miraflores N340 km 199.
Tel : 952 932 006
Mansfield's
Mansfield's is at the popular Benavista complex between San Pedro and Estepona. It is a non-membership club, where any of the five excellent courts can be rented foraround seven euros per hour, with paddle at the same price (check for current prices as these are subject to change). The club has full changing and shower rooms andfacilities for disabled players, with ramps into the clubhouse and on to one of the courts. The restaurant and bar is available for private functions. Phone in advance, asthe club is very busy in the summer months.
Tel : 952 888 106
Puente Romano Hotel Club
At the Puente Romano Hotel Club, group lessons are available for children, with a maximum of four to a class, for 60 euro a month. This buys two lessons a week of onehour each, which works out at eight euros per hour. Full membership of the club for adults is 720 euros a year for paddle and proper tennis, with a spouse qualifying for a50% discount, a first child under 14 at 180 euro and subsequent youngsters at 120 euros each. Lessons for adult club members are 25 euro for 50 minutes and 40 eurofor hotel guests. There are ten Tennis Courts and four pádel. It is located on the 'Golden mile' between Marbella and Puerto Banús at km177.
Tel : 952 820 900
El Madroñal Country Club
El Madroñal Country Club has tennis courts and a school. It is open to non-members and located on the San Pedro to Ronda road at km164.
Tel : 952 785 307
El Casco Tennis Club
El Casco Tennis Club has six clay and four hard courts. Membership, restaurant and accommodation are all available.
Urb. El Rosario, km188 on the N340.
Tel : 952 837 651
Los Granados Tennis Club
Los Granados Tennis Club has two paddle tennis and three tennis courts. Individual lessons are also available at your home. There is a tennis school for children agedfour and over every afternoon. Puerto Banús.
Tel : 952 818 662
Club Nuevo Alcántara
Club Nuevo Alcántara is located in the Heart of this new urbanisation. Four tennis and nine pádel courts.
Tel : 952 788 315
Manolo Santana Raquets Club
Manolo Santana, the former French, US and Wimbledon champion, hosts the Marbella open tournament here each summer. There are six tennis courts and two paddlecourts Located between Marbella and Puerto Banús north of the Golden Mile on the Careterra de Istan km2.
Tel : 952 778 580
Tenis El Casco
El Casco tennis club is located within the Urbanisation El Rosario east of Marbella. 9 Tennis courts and 4 padel.
Tel : 952 837 65 1
Lew Hoads Tennis Club
Located between Fuengirola and Mijas. Founded by the late great Australian Wimbledon winner. Careterra de Mijas km3.5.
Tel : 952 474 858
Tennis Tournament in Andalucia
Andalicia Tennis Experience  (2009 -2011)
A professional womens tennis tournament played outdoor on clay courts. The event at the Puente Romano Club in Marbella, inaugurated in 2009 was affiliated with the Womens Tennis Association as an international tournament on the WTA tour. Prize money was 500.000$ and the draw was for 32 players.. In 2009 it was won by Jelena Jankovic (Serbia), in 2010 by Flavia Pennetta (Italy), in 2011 by Victoria Azarenka (Belarus). The event was heavily supported by the agency of the Andalucia Regional Governement who decided for economic and political reasons not to continue with the  The 2012 event was cancelled, and in 2013 the tornament abolished. 
Marbella Copa Hola (2007)
One of tournament. Read our report.
Davis Cup Final (1988)
Spain beat Mexico in the Davis cup final of 1988 at the Puente Romano Tenis club.

Nations Senior Cup (2004 to 2007)
Event hosted at the Puente Romano Tenis club with the participation of John McEnroe, Boris Becker, Emilio sanchez Vicario, Mats wilander, Jim Courier, Thomas Muster, Yannick North. 
Davis Cup  2011
Spain won the Davis Cup at the Olympic Stadium  Seville (beating Argentina) on 2nd to 4th December 2011. The Semi finals took place in Cordoba over 16th to 18th September where they beat France.  

Davis Cup 2009
Spain won the Davis Cup in Barcelona (beating Czech Republic). The Quarter finals took place in Marbella over 10th to 12th July 2009 where they beat Germany.
Davis Cup 2004
Spain won the Davis Cup at the Olympic Stadium Seville (beating USA) on 3rd to 5th December 2004. 
Davis Cup 2003
Spain were beaten by Australia in the final of Davis Cup in Melbourne in November 2003  The Semi finals took place in Malaga over 19th to 21th September where Spain beat Argentina.
Davis Cup 2000
Spain won the Davis Cup in Barcelona (beating Australia) November 2000. The Quarter finals took place in Malaga over 7th to 9th April where Spain beat Russia.
Destinations