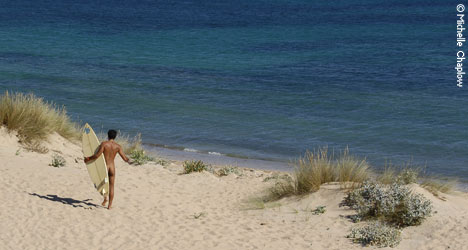 Naturist Beaches of Andalucia
The Spanish Tourist Board estimates that around 1.5 million tourists visit Spain every summer with the express aim of practicing naturism. To this number can be added the estimated half a million Spaniards who habitually or occasionally enjoying sunbathing in the buff. Andalucía is the autonomous community with the most kilometres of nudist beach - or we should say, more accurately, beaches where nudism is habitually practiced. From secluded coves and busy urban beaches to great wide sweeps of sand that disappear into infinty, there are loads of places in Andalucía for you to work on that all-over tan.
Andalucía is also the region with the most dedicated naturist accommodation. There are well-equipped camp-sites, apartment complexes, rural B&Bs, and there's even a four-star hotel. So what are you waiting for? It's time to start working on those white bits now!
Language spot
Desnudo / Naked, nude
Desnudarse / To take your clothes off, strip
En pelota(s), En bola(s) / Starkers (literally, in the balls)
En cueros / In the buff (literally, down to your skin)
Textil / Textile – ie someone who ISN'T a naturist
Naturism and the law
The right to dress (or not) as you see fit is enshrined in the Spanish constitution, and theoretically you can be naked on any beach, or indeed in any public place. In practice, if you walk starkers down a busy High Street the Guardia Civil just might invite you to get dressed. Some naturist beaches are officially designated and signposted as such by local councils. However, there are many other 'tolerated' beaches, where people traditionally sunbathe nude, and at these you tend a get a total live-and-let-live mix of sunbathers topless, swimsuited and nudist.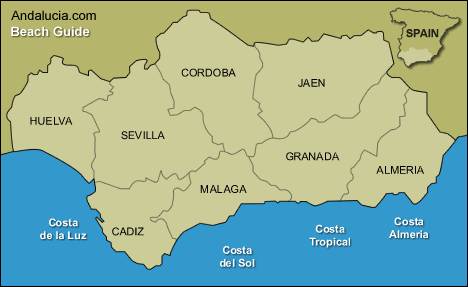 Coasts of Andalucia
About beaches in Andalucia