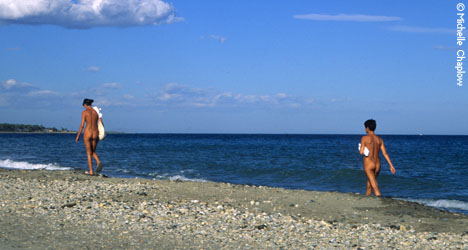 Naturist Beaches - Costa Almería
As well as the world-famous naturist beach and resort of Vera Playa, Almería is also home to some of the most stunning and unspoilt nudist beaches in Andalucía. Listed below are naturist beaches in Almería, including information on how to get there and nearby accommodation options. 
Vera Playa
Vera Playa is backed by half a dozen naturist urbanisations and also boasts the country's only four-star naturist hotel, the Vera Playa Club Hotel. Some beaches are made for walking and the 3km-long El Playazo (literally, 'the one-heck-of-a-big beach') at Vera is most definitely one of them. There are mountains in the distance at either end and the fabulous expanse of hard, compact sand at the water's edge is perfect for a naked walk or jog. Not all the beach is nudist, but if you stray onto the textile side no-one seems to mind.
On 21 July 2013 at noon, the World Record for the biggest number of people skinny dipping in one location was broken at Vera Playa with an incredible 729 people!
There are many naturist hotels and apartment complexes located next to the famous El Playazo, listed below.

Vera Natura Urbanización Naturista
This naturist resort is set next to the beach in Vera Playa. It features well-equipped apartments and gardens. Most apartments have a terrace or a small garden. Public parking available.

Vera Playa Club Hotel
Situated on Vera Beach, the naturist Vera Playa Club offers indoor and outdoor pools, a gym and free Wi-Fi zone. The colourful, air-conditioned rooms include a furnished balcony and satellite TV.

Aparthotel Reina
Set 150 metres from Vera's Playazo Beach, Aparthotel Reina offers an outdoor pool, a gym and a terrace with hot tub and sea views. Each spacious apartment has a balcony. There is also a small spa.
Cabo de Gata, San José
The Cabo de Gata-Níjar Natural Park is a treasure trove of hidden coves, weird rock formations, volcanic cliffs and Wild West sandscapes. Nudism is traditionally practiced on most of the beaches.
Just south of the whitewashed town of San José a gravel road (plus a fair amount of walking) provides access to Los Genoveses at one end and Cala Monsul at the other. In between are some of the prettiest and wildest nudist spots for sunbathing you'll find anywhere. The largest and most accessible is the officially naturist Barrancal beach. Leave your car at the side of the road by the parking sign around 500 metres after Los Genoveses and march along the barest of paths, dodging aloe spears, prickly pears, pitas and assorted thistles until you reach a wide sandy bay. From El Barrancal, legs willing, you can hike up either side of the cliffs to reach even more secluded spots – the most stunning of which are Media Luna, Cala Principe and Cala de los Amarillos. At the far right end of Los Genoveses you'll also see people sunbathing au naturel.
There are no facilities on any of the beaches, so don't forget to take plenty of water and provisions. For Hotels and accommodation in Cabo de Gata, click here, and for accommodation in San José, click here. 
Playa de los Muertos, Carboneras
Playa de los Muertos is a pleasant 30-minute drive from Vera Playa, and forms part of the Cabo de Gata-Níjar Natural Park near the town of Carboneras. There are no facilities and access is on foot down a steepish but well-walked gulley. It takes about 15 minutes to get down, somewhat longer to puff back up. Unlike Vera, it's a pebble beach, but the stones are small and smooth and polished and the sea is crystal clear and of the deepest-blue. Despite its relative out-of-the-wayness, Playa de los Muertos is popular with both naturists and textiles. Pockets of both exist side by side sin problemas, though you'll find the a higher naturist to textile balance during the week and outside of the summer months.