Cabo de Gata-Níjar Natural Park
Take me to: Hotels & Accommodation
Covering 45,663ha in the southeastern corner of Spain, Cabo de Gata-Níjar is Andalucia's largest coastal protected area, a wild and isolated landscape with some of Europe's most original geological features. The eponymous mountain range is Spain's largest volcanic rock formation with sharp peaks and crags in ochre-hues. It falls steeply to the sea creating jagged 100m-high cliffs, which are riven by gullies leading to hidden coves with white sandy beaches, some of the most beautiful in Andalucia. Offshore are numerous tiny rocky islands and, underwater, extensive coral reefs teeming with marine life.
High temperatures (an annual average of 18°C) and the lowest rainfall in the Iberian peninsula (200mm annually on average) has created a large semi-desert area, with characteristic shrubby vegetation and dwarf fan palms. But the park also encompasses an outstanding variety of habitats, from coastal dunes, beaches, steep cliffs, saltpans, a substantial marine zone of 12,200ha, saltmarshes, inland arid steppe and dry river beds. Designated a Unesco Biosphere reserve in 1997, the park shelters an extraordinary wealth of wildlife, including many rare and endemic plants and endangered fauna.
One of Spain's most important wetland areas for breeding and overwintering birds is called the Salinas de Cabo de Gata, the saltwater lagoon that runs parallel to the beach and is separated from it by a 400m-wide sand bar. Located between San Miguel and the Cabo de Gata headland, this lagoon is of outstanding ecological interest, particularly for its birdlife. The salinas (saltpans) are the only ones still in operation in eastern Andalucia.
Phoenicians, Romans and Arabs were all attracted by the area's rich mineral deposits like agate, jasper and, most importantly, gold, which was extracted from the mines of Rodalquilar. A jetty at Agua Amarga was used for loading ore onto cargo boats. Other inhabitants were Berber pirates, who sought refuge in this remote corner of Andalucia, but the dozen lookout towers dotted along the coast are evidence of attempts to repel them.
Inland, the landscape is arid and desert-like, making for harsh living conditions. Life in this area 50 years ago, was described in the modern Spanish classic, Campos de Níjar, by Juan Goytisolo, published in 1959. 
A similarly bleak view is seen in Federico Lorca's seminal play, Boda de Sangre (Blood Wedding), featuring a crime of passion which took place near Cortijo del Fraile,  a farm near Albaricoques village.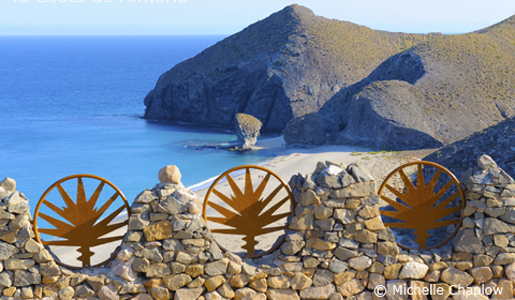 Cabo de Gata-Níjar is Andalucia's largest coastal protected area.
The pristine waters off the peninsula are ideal for underwater photography, diving, snorkelling, sailing, sea-kayaking, windsurfing and all types of fishing. Mountain biking and 4X4 excursions are popular in the mountains.
Tours and things to do at Cabo de Gata
Buy tickets Tours and things to do at Cabo de Gata
Visitors Center
The park's visitors' centre is Los Amoladeras, between Retamar and San Miguel de Cabo de Gata just off the AL-3115 at Km 7. It has an exhibition on the park's volcanic geology, flora, saltpans and the sea. It can also provide information on walks, accommodation and activities in the park. PDF Guide
The centre is generally open Thursday to Monday 10.00 to 14.00. Tel: 950 160 435
There are also information points at Las Sirenas by the lighthouse on the southernmost tip of Cabo de Gata, in village La Isleta del Moro and on the AL-5106 at the car park for the path down to Playas de los Muertos beach.
Access
Much of the coastline is only accessible on foot, via some well-marked footpaths and walks, especially between Cabo de Gata headland and San José and Las Negras and Agua Amarga.
The park can be accessed from the west via the village of San Miguel de Cabo de Gata. Follow the coast road with the superb Cabo de Gata beach on the right-hand side. The eastern section of the park can be reached via a mainly inland road linking coastal villages north of San José
such as Los Escullos, Isleta del Moro, Las Negras, Agua Amarga
Accommodation
Click here to see Hotels including campsites and self-rental options. 
Driving Route along Cabo de Gato Coast
Follow a driving route along Cabo de Gato coast from San Miguel de Cabo de Gata, past the abandoned church and the salt flats, past the beaches and the coves to the lighthouse at the and the end of the cape. More>
Flora and Fauna
For such an arid area, Cabo de Gata has a surprising array of plants, with some 1,000 species recorded here. Xerophytic plants, some of them endemic, characterise much of this semi-desert area.
Rivers
The Sierra de Cabo de Gata is drained by many seasonal rivers, called ramblas, which are dry for much of the year.
Things to see
Agua Amarga is a charming fishing village with an attractive sandy beach.
Los Escullos has a ruined 18th-century castle perched on top of fossilzed sand dunes, dramatic cliffs and a small pebble beach.
La Isleta del Moro is tiny, characterful fishing hamlet.
Las Negras coastal village is dominated by impressive cliffs and also has an attractive beach.
Playas de los Muertos is a long, straight beach access is a steep path.
San José is a pretty coastal village, from there you can head south on a track to the beautiful Playa de los Genoveses.
Arrecife de las Sirenas the Reef of the Mermaids.
Cabo de Gata cape and lighthouse one of the main Capes or Peninsular demarking the Spanish Mediterranean coastline.
Walks
The park has over 20 marked footpaths. Remember to take plenty of water.
Cabo de Gata lighthouse - San José is a linear walk linking two of the park's best beaches. The footpath traverses the volcanic cliffs and you can pass many secluded coves backed by steep cliffs. Past cultivated fields of prickly pears, there is the grey sandy beach of Playa Monsul, which is backed by distinctively-shaped immense volcanic rocks. This unique beach setting has been used for many films, most famously Indiana Jones and the Last Crusade. The next beach is called Media Luna (Half Moon). Two kilometres before San José is the Playa de los Genoveses.
Las Amoladeras is an easy circular 6 km walk that starts next to the visitors' centre Las Amoladeras. It goes through arid steppe landscape; if you're into birdwatching, there's a good chace of seeing birds that are characteristic of this habitat. These include various species of lark such as the rare Dupont's lark, along with crested larks, thekla larks, skylarks, little bustards and stone curlews, among others.
Villages on the coast
North to South
Agua Amarga
Las Negras
San José
Isleta del Moro
Los Escullos
San Miguel de Cabo de Gata
Retamar
Villages inland
Rodalquilar
Nijar
Fernan Pérez
Hortichuelas
Pozo de los Frailes
Albaricoques
Destinations