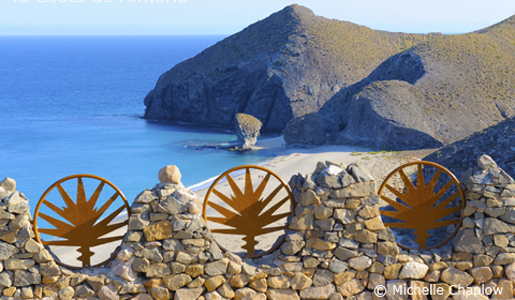 Cabo de Gata-Níjar is Andalucia's largest coastal protected area.
Camping | Suggested Routes | Flora | Fauna
Cabo de Gata-Níjar Natural Park
Take me to: Hotels & Accommodation
Covering 45,663ha in the southeastern corner of Spain, Cabo de Gata-Níjar is Andalucia's largest coastal protected area, a wild and isolated landscape with some of Europe's most original geological features. The eponymous mountain range is Spain's largest volcanic rock formation with sharp peaks and crags in ochre-hues. It falls steeply to the sea creating jagged 100m-high cliffs, which are riven by gullies leading to hidden coves with white sandy beaches, some of the most beautiful in Andalucia. Offshore are numerous tiny rocky islands and, underwater, extensive coral reefs teeming with marine life.
High temperatures (an annual average of 18°C) and the lowest rainfall in the Iberian peninsula (200mm annually on average) has created a large semi-desert area, with characteristic shrubby vegetation and dwarf fan palms. But the park also encompasses an outstanding variety of habitats, from coastal dunes, beaches, steep cliffs, saltpans, a substantial marine zone of 12,200ha, saltmarshes, inland arid steppe and dry river beds. Designated a Unesco Biosphere reserve in 1997, the park shelters an extraordinary wealth of wildlife, including many rare and endemic plants and endangered fauna.
One of Spain's most important wetland areas for breeding and overwintering birds is called the Salinas de Cabo de Gata, the saltwater lagoon that runs parallel to the beach and is separated from it by a 400m-wide sand bar. Located between San Miguel and the Cabo de Gata headland, this lagoon is of outstanding ecological interest, particularly for its birdlife. The salinas (saltpans) are the only ones still in operation in eastern Andalucia.
Phoenicians, Romans and Arabs were all attracted by the area's rich mineral deposits like agate, jasper and, most importantly, gold, which was extracted from the mines of Rodalquilar. A jetty at Agua Amarga was used for loading ore onto cargo boats. Other inhabitants were Berber pirates, who sought refuge in this remote corner of Andalucia, but the dozen lookout towers dotted along the coast are evidence of attempts to repel them.
Inland, the landscape is arid and desert-like, making for harsh living conditions. Life in this area 50 years ago, was described in the modern Spanish classic, Campos de Níjar, by Juan Goytisolo, published in 1959. 

A similarly bleak view is seen in Federico Lorca's seminal play, Boda de Sangre (Blood Wedding), featuring a crime of passion which took place near Cortijo del Fraile, (GPS: 36.865559N, -2.075446W) a farm near Albaricoques village.  
The pristine waters off the peninsula are ideal for underwater photography, diving, snorkelling, sailing, sea-kayaking, windsurfing and all types of fishing. Mountain biking and 4X4 excursions are popular in the mountains.
Kayaking tour through volcanoes of Cabo de Gata Natural Park
Kayaking tour through volcanoes of Cabo de Gata Natural Park
If we talk about kayaking, you probably know what activity we are talking about, but if we alternate this wonderful sport with guided visits to the Natural Park of Cabo de Gata Nijar, you will feel like in paradise. These are guided tours for all levels, covering the numerous coves of the park and observing the fauna of the seabed of Posidonia in its entirety, Our kayaks, mostly for two, are also available for families who want to bring the smallest of the house in the middle of the kayak, which allows the possibility of going 3 in it.

Ruta de Las 5 Calas en exclusiva
Ruta de Las 5 Calas en exclusiva
Con nuestro paseo en yate privado por el Cabo de Gata, podrás contemplar impresionantes acantilados volcánicos de extraordinaria belleza, descubrir cuevas que sólo se ven por mar, visitar solitarias calas inaccesibles y tener la oportunidad de bañarte en las aguas más cristalinas del Mediterráneo.

VISITORS CENTRES
The park's visitors' centre is Los Amoladeras, between Retamar and San Miguel de Cabo de Gata on the AL822 at Km 7, 950 160 435. It has an exhibition on the park's volcanic geology, flora, saltpans and the sea. It can also provide information on walks, accommodation and activities in the park.
From June to September, the centre is open daily, 10am-2pm and 6pm-8pm. From October to May, it's open Tuesday-Sunday 10am-2pm and 4pm-6pm (6pm-8pm April-May).
There are also information points at Las Sirenas on the southernmost tip of Cabo de Gata, in La Isleta and at the Punta de los Muertos.
Access
Much of the coastline is only accessible on foot, via some well-marked footpaths and walks, especially between Cabo de Gata headland and San José and Las Negras and Agua Amarga.
The park can be accessed from the west via the village of San Miguel de Cabo de Gata. Follow the coast road with the superb Cabo de Gata beach on the right-hand side. The eastern section of the park can be reached via a mainly inland road linking coastal villages north of San José.
Accommodation
Click here to see our Hotels & Accommodation page for the Cabo de Gata Nature Reserve, including campsites and self-rental options. 
Suggested DRIVING routes
San Miguel to Cabo de Gata, starting from the village of San Miguel, look out on the left for the salt pans Salinas de Acosta, a vast 4km-long wetland created by a lagoon with blindingly white mounds of salt heaped up. Here you can see the ruins of an old village; the size of the church gives an idea of how important the salt industry must have been. Salt has been extracted from here for centuries since Phoenician times.
Just 3km after the San Miguel stone tower and on the left opposite a metal lookout tower on the beach is a dirt track that leads to a bird hide. You'll find it about 150m down the track from the beach, across the sand dunes.
The road then climbs steeply; look out for the ospreys nesting in the cliffs above the road, as well as peregrines, kestrels and eagles. The next cove is dominated by a lighthouse (faro). Legend has it that sailors mistook the sound of monk seals for mermaids on this headland so they called it the Arrecife de las Sirenas (the Reef of the Mermaids). From the hills of San Miguel and Vela Blanca, where there is an 18th-century watchtower, are some of the park's most magnificent panoramic views. You can see as far as North Africa on clear days, as well as the Salinas and along the coast.
There is a car park at the lighthouse and access to a viewpoint, Mirador Las Sirenas, which is a good place to spot offshore seabirds such as razorbills, shags, cormorants, gannets and gulls.
The road carries on to the next headland but a barrier prevents vehicles from continuing. However, you can take a very enjoyable walk from here, 8km along a dirt track to the village of San José.
San José to Agua Amarga, this is a mainly inland route, which nonetheless visits the Cabo de Gata's principal beach resort of San José and a few other beaches, with fine views along this rugged stretch of coastline.
San José has its own beach, or you can walk around the headland west of town to Playa de los Genoveses. For the next beach, Los Escullos, the road turns inland. You can stop at the information point at Pozo de los Frailes to stock up on maps and accommodation details. The AL-826 then passes by the turn-off for Los Escullos and, 1km further on, the tiny fishing village of La Isleta. Both have some great seafront bars.
The road climbs beyond La Isleta to a viewpoint with superb views along this stretch of coastline, before turning inland again to Rodalquilar, a former gold mining centre and now with some abandoned houses. The mine has been closed since the mid-1960s, causing a population decline in the village. There is a botanical garden here, El Abardinal, displaying an excellent variety of plants that grow in the park.
One kilometre later, take the 2km-long track that heads right towards the coast. There is a fine sandy beach, El Playazo, and the Castillo de San Ramón, another 18th-century lookout tower. Back on the main road, you can take a detour to Las Negras, with its pebble beach, before continuing north. Take a right at Fernan Pérez, which will bring you on to the AL712 that leads to Agua Amarga, one of the most attractive resorts in Cabo de Gata and its northernmost village.
Three kilometres north of Agua Amarga is a great spot for views from the clifftop Mirador Punta de los Muertos on the headland. There is a car park here and you can walk down to the Playa de los Muertos.
Flora
For such an arid area, Cabo de Gata has a surprising array of plants, with some 1,000 species recorded here. Xerophytic plants, some of them endemic, characterise much of this semi-desert area.
One of the most significant plants found here, the dwarf fan palm, is used for the park's symbol. Europe's only native palm, it grows among esparto grass, shrubby thyme and rosemary, which are adapted to the arid climate, surviving on moisture in the air such as dew to supplement the scant rainfall.
Cabo de Gata has many native species that are unique to the park, its most emblematic being the pink snapdragon antirrhinum charidemi, known locally as the dragoncillo del Cabo, which flowers all year round. It is found on south-facing volcanic rocks, like the Barranco del Sabinal and the Collado de la Vela Blanca. The pale pink dianthus charidemi used to be exclusively found in the Cabo de Gata but has now been discovered in the mountain range near Águilas, in neighbouring Murcia province. In the Cabo de Gata it grows on south-facing rocky ground like the Barranco del Negro.
On the coastal steppe is the Iberian peninsula's largest population of jujube trees, an autocthonous thorny shrub that colonises sandy coastal habitats.
Mediterranean scrubland is composed of wild olive trees, lentisc and Kermes oaks. Wetland areas like those around the Salinas are colonised by saltworts, phragmites reeds and the glasswort sarcocornia fruticosa.
In the park's waters are extensive beds of posidonia oceanica, endemic to the Mediterranean Sea, and 260 species of seaweed, which are home to many species of crustaceans, molluscs and fish, like bream and grouper.
Fauna
Designated a special protected zone for birds in 2000, the park's most noteworthy 1,100 species of fauna are its wetland birds found on the salinas; flamingos in their thousands flock here, alongside grey and purple herons, storks, cranes and many species of waders like avocets, curlews, oystercatchers and black-winged stilts.
In spring and autumn thousands of migrating birds stop here on their journeys between Europe and Africa, while in the winter there are numerous ducks. You can view the salinas from the bird hide on its shore.
The best place to see them seabirds offshore is the viewpoint on the Cabo de Gata headland, where you can see gulls, terns and Cory's and Balaeric shearwaters. Other seabirds are yellow-legged gulls, razorbills, shags and the occasional puffin.
The park is rich in reptilian life, with around 15 species such as Italian wall lizards (the only place they are found in Spain), ocellated lizards, grass snakes and Latastes' viper, which lives under dwarf fan palms.
Rivers
The Sierra de Cabo de Gata is drained by many seasonal rivers, called ramblas, which are dry for much of the year.
Things to see
Agua Amarga is a charming fishing village with an attractive sandy beach.
Los Escullos has a ruined 18th-century castle perched on top of fossilzed sand dunes, dramatic cliffs and a small pebble beach.
La Isleta is tiny, characterful fishing hamlet.
Las Negras has some impressive cliffs and an attractive beach.
Playas de los Muertos is a long, isolated beach.
San José is a pretty coastal village. From here you can head south on a track to the beautiful Playa de los Genoveses beach.
Walks
The park has over 20 marked footpaths. Remember to take plenty of water.
Sendero lighthouse-San José is a linear walk linking two of the park's best beaches. The footpath traverses the volcanic cliffs and you can pass many secluded coves backed by steep cliffs. Past cultivated fields of prickly pears, there is the grey sandy beach of Monsul, which is backed by distinctively-shaped immense volcanic rocks. This unique beach setting has been used for many films, most famously Indiana Jones and the Last Crusade. The next beach is called Media Luna (Half Moon). Two kilometres before San José is the Playa de los Genoveses.
Sendero Las Amoladeras is an easy circular 5½km walk that starts next to the visitors' centre Las Amoladeras. It goes through arid steppe landscape; if you're into birdwatching, there's a good chace of seeing birds that are characteristic of this habitat. These include various species of lark such as the rare Dupont's lark, along with crested larks, thekla larks, skylarks, little bustards and stone curlews, among others.
Villages
Agua Amarga
Almadraba
Escullos
Fernan Pérez
Hortichuelas
Las Negras
Pozo de los Frailes
Rodalquilar
Nijar
San José
San Miguel de Cabo de Gata
Destinations