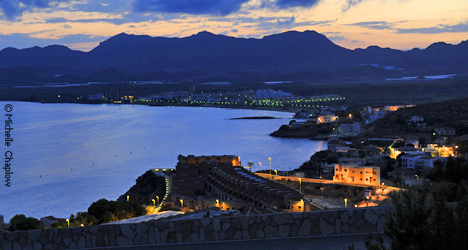 The beach of Isla Cristina is renowned for its spectacular sunsets.
Isla de Terreros e Isla Negra Natural Monument
These two volcanic islets close to the Almeria coastline are an important breeding site for the European storm petrel and Cory's shearwater. Measuring 11,150m², the steep-sided Isla de Terreros is the largest of a series of small, rocky islands located along the coastline of Almeria. It is 700m from the shore, while the smaller Isla Negra (6,015m²) is only 50m from the mainland.
Access
From Almeria, take the A7 motorway towards Murcia, then the A350 to Pulpí and on to San Juan de Terreros. You can see the islets offshore from here.
Flora
Although rocky, the islets have some vegetation typical of the Mediterranean, such as two species from the goosefoot family (chenopodiaceae): salsola verticilata and the rare shrubby sea-blight (suaeda vera). Underwater, around both islets, are meadows of the seagrass posidonia oceanica.
Fauna
The islets are important breeding sites for many seabirds, particularly for yellow-legged gulls, as well as the Cory's shearwater and the European storm petrel. Also here are little and cattle egrets.
Inhabiting the seagrass areas around both Terreros and Negra is a rich fauna, most notably the endangered fan mussel that is only found in the Mediterranean.
Villages
San Juan de Terreros
Destinations