SAN JOSÉ
San José sits beside a shallow bay at the south end of the Cabo de Gata Natural Area. Once a small eighteenth-century fishing village, it is now the most important touristic hub of the Cabo de Gata-Níjar National Park; this tourism has supplanted fishing as the town's principal economy. However, this has not compromised San José's beauty or its scenic setting amidst volcanic mountains, stunning beaches and bays. It has around 1,000 inhabitants.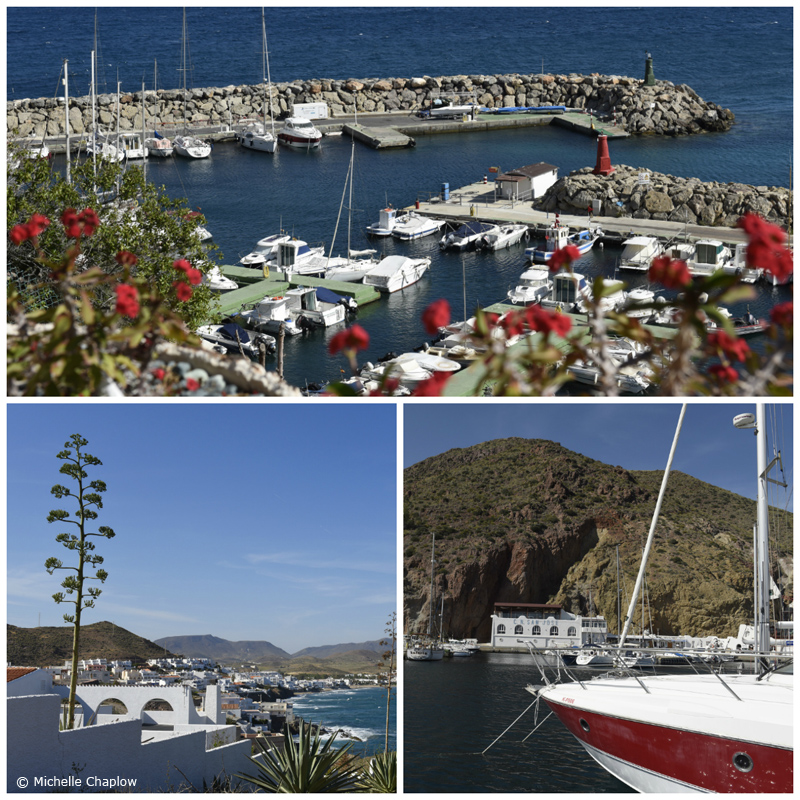 HISTORY
In the eighteenth century, a coastal battery called San José was installed on the outermost promontory of the formerly affected Bahía del Sollarete. It cost about 150,000 reais of fleece and was equipped with artillery pieces distributed across its three batteries. During the War of Independence, it was partially dismantled, before later being occupied by the police for coastal surveillance. Its mission was to monitor the bays of Genoveses and San José, all the way to Cala Higuera; two natural anchorages widely used by the Berber pirates who docked along this coastline. Under the shelter of this military installation grew a small quarter of fishermen's homes, of which remains of the old houses are still preserved.
Today, the small population has replaced its fishing activity with sustained tourism consistent with the natural appeal of its surrounding environment, and has become the tourist centre of the National Park.
THINGS TO SEE
Castillo de San José
The Castle of San José was located on the rock of Gálvez, now known as Punta del Castillo. Its mission was to defend the natural ports of Genoveses Bay, Sollarete Bay and Cala Higuera. Construction began in September,1733 and concluded in May of 1735. The large, two-storey building had three batteries capable of holding fourteen guns of various calibers. On its ground floor was the chapel, barracks for the soldiers and sergeant, a canteen, bakery and oven, gunpowder store and supplies, jail and communal area. The fortress was accessed by a drawbridge. After the War of Independence, the Castle was in poor condition and a lack of investment contributed to its decline. In 1849, practically in ruins, it was handed over to the Carabineros. In 1941, the remains of the Castle fell into the possession of the Civil Guard. In 1973, without taking into account the law that had protected all Castles in the Spanish territory since 1949, the house-barracks of the Civil Guard of San José were built on the batteries of the fort. The site is located on Calle Castillo.
The main street in the town is Calle Correo, where the park is located, as well as several shops and the tourist office which is open daily except on Sundays and can advise on accommodation, as well as activities well-suited to the area, such as bike rental, horse riding, boat trips, Land Rover tours and windsurfing.
There are several places to stay in San José, including a campsite just 400m from the beach, a youth hostel run by the local municipality and, for those seeking more of a hideaway, the Refugio Mediterráneo de Gata on Cala Higuera which comprises eight cosy, rustic rooms, some with adjacent kitchens. There are also several more conventional hotels, including the top of the range Hotel San José in Barriada de San José, which has just eight rooms and stunning views of the town.
THINGS TO SEE OUTSIDE THE VILLAGE
Torre de Cala Higuera
The Cala Higuera tower dates to the sixteenth century, and is built in masonry and brick. It comprises a chamber located in the upper part and a terrace, and can be visited in Punta de los Frailes, south of San José.
Tours and things to do from San Jose
Buy tickets Tours and things to do from San Jose
Tours and things to do at Cabo de Gata
Buy tickets Tours and things to do at Cabo de Gata
NATURAL AREAS
Cabo de Gata-Níjar National Park
Covering 45,663ha in the southeastern corner of Spain, Cabo de Gata-Níjar is Andalusia's largest protected coastal area; a wild and isolated landscape with some of Europe's most unique geological features. The eponymous mountain range is Spain's largest volcanic rock formation, with sharp peaks and crags in ochre hues. It falls steeply to the sea creating jagged 100m-high cliffs, which are riven by gullies leading to hidden coves with white sandy beaches, some of the most beautiful in Andalusia. Offshore are numerous tiny rocky islands and, underwater, extensive coral reefs teeming with marine life. More>
BEACHES
Popular beaches in San José include Playa de los Genoveses, which is approximately 1km long and has shallow waters and rocky headlands at each end, and Playa de Mónsul, just 2.5kms away, which is one of the most unusual beaches in the area, with with fine grey sand created by the huge lumps of volcanic rock that surround it.
LEISURE AND SPORTS
The natural wealth of the environment has encouraged a wide range of leisure and sports activities in San José, including nautical and aquatic activities like scuba diving, as well as biking or walking routes along its striking pathways.
JOE STRUMMER
Joe Strummer (of The Clash) spent his summer holidays in San José from 1988 to 2002. He also lived in Granada in 1984 and 1985. Read more about Joe Strummer and his connection with Andalusia.
COUNTRYSIDE WALKS
A popular coastal walk from here is to the charming hamlet of Los Escullos, which is reached along a coastal  track heading northeast from San José.
GASTRONOMY
Fish, seafood and paella are the main gastronomic dishes of San José, made with fresh ingredients and seafood taken and cooked straight from the sea. Paella usually consists of a mixture of shrimp, prawns, shellfish, muscles or cod mixed in a bowl of rice cooked in fish stock.
BUS TIMETABLE
The is a four bus a day service from San José to Almeria with Autocares Bernardo.
FESTIVALS
Popular festivals in San José include Cabalgata Reyes Magos, Día de San José, Semana Santa and Día de San Juan. More>
NEARBY PLACES
The neighbouring villages to San José are Los Escullos, La Isleta del Moro and Rodalquilar and Las Negras.
Destinations