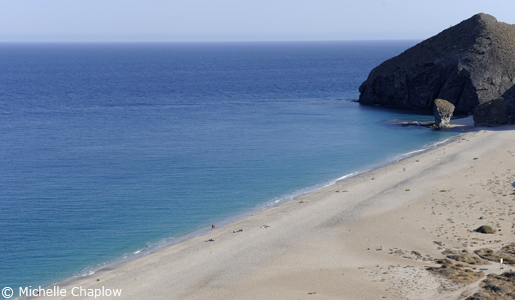 Playa de los Muertos in Cabo de Gata Natural Park, Costa Almeria.
Costa Almeria
Still harbouring largely undiscovered coastline, the Costa Almeria offers a staggering 320 days of sun a year and some superb beaches and hotels to enjoy it. Lively resorts in the eastern part offer plenty of accommodation options: yachting centre Almerimar, Roquetas de Mar and Aguadulce, with its long, inviting beach.
For hotels in a quieter, more undeveloped area, head for the Cabo de Gata, a wild, mountainous peninsula which is a Natural Park - accommodation is in and around San Jose and Agua Amarga. But the main resort on this coast is Mojacar, with its hilltop artists' community and relaxed beach, perfect for an evening stroll along the promenade from your hotel. The gateway to the Costa Almeria is Almeria Airport.
For more detailed information about Hotels in the Costa Almeria destinations consult the Hotel sections of our Costa Almeria destination pages. From west to east; Almerimar, Roquetas de Mar, Almeria, Mojacar.
Hotels on Costa Almeria coast
Book Hotels on Costa Almeria
Destinations