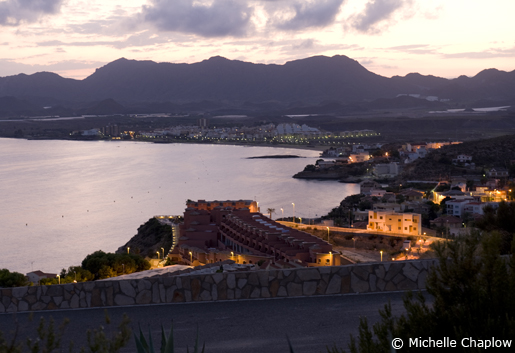 Pulpi on the coast of Almeria.
PULPÍ
Pulpí is home to the Giant Geode of Pulpí, a beautiful volcanically formed cavern covered in transparent gypsum crystals, considered the best preserved in the world. It is therefore no surprise that is has been officially declared a Natural Place of Interest. It was discovered on the inside of an abandoned mine in El Pilar de Jaravia, one of the many populated areas of Pulpí, and is many millions of years old. The town of Pulpí itself has around 9,500 inhabitants.
HISTORY
The possible human occupation of Pulpí and its surrounding territories during Prehistory and Protohistory are yet to be studied. However, various materials from the Roman Period have been unearthed, mainly on the coast. For example, on the beach of Terreros, next to the Salinas, a red clay musical instrument was discovered, similar to that found in Pozo del Esparto. Specialist Juan Cuadrado, who visited the site, suggested that there would have been a Roman city of relative importance there.
From the Byzantine era, only the materials collected by Cánovas Cobeño on the Island of Terreros are documented. During the Muslim occupation, La Fuente de Pulpí was a key passage point between the cities of Lorca and Vera. After the Castilian conquest of the city of Lorca in the mid-thirteenth century, the lands of Pulpí become part of the wide "no man's land" between the Christian Kingdom of Murcia and the Muslim Kingdom of Granada. During the thirteenth and fourteenth centuries, large quantities of marble were extracted for projects in Granada such as the Alhambra and the Generalife.
With the conquest of Vera in 1488, the lands of Pulpí were incorporated into those of the city of Vera, but they remained unoccupied, mainly due to the maritime border, which was heavily frequented by Berber pirates. The lands of Pulpí were appealing for both Lorca and the Marquis. In 1551, cereal crops were destroyed with the aim of conquering the fertile lands of Pulpí. The abandonment of these lands led to the creation of pastures, used as a greenhouse and shelter for passing cattle from inland Baza, María and Puebla de Don Fadrique, among others. Between 1647 and 1652, the Council distributed these lands, reserving ownership of them.
In the summer of 1836, the inhabitants of Pulpí took advantage of the more progressive government to request the independence of the municipality, and obtained it in the same year. In 1840, the town was again incorporated into the city of Vera until 1862, when it finally became independent with its own Town Hall.
THINGS TO SEE
Iglesia de San Miguel Arcángel
In 1787, the construction of a church was commissioned. Designed in 1797 by architect Juan Antonio Munar, the Neoclassical-style church was completed in 1801. On October 14, 1879, terrible floods devastated the entire basin of the Almanzora River and Pulpí received aid from various Spanish cities. It was restored in the last decade of the twentieth century following a project by architect Ramon de Torres López. Located in Plaza Libertad.
Casa del Inglés
Translated as the House of the English, this is an example of an ancestral home, although today it is abandoned.
THINGS TO SEE OUTSIDE THE VILLAGE
Geoda Gigante
The Giant Geode is a unique phenomenon worldwide given its dimensions and perfect condition, and the size and transparency of its crystals. Considered the best preserved in the world, it was discovered by Ángel Romero in 1999 inside an abandoned mine in the Pilar de Jaravía. It is a rock formation whose interior is covered with a crystallized substance formed by plaster crystals. It is several million years old and is more than 8m in length and almost 2m in width and height. It has been declared a Natural Monument. Located south east of Pulpí, off the A-1205.
Castillo de San Juan de los Terreros
The castle was built during the middle of the eighteenth century, under the reign of Carlos III. It is part of a defensive renovation plan that sought to fortify the Spanish coast against foreign pirate attacks. The building's style is typical of strong coastal defensive forts used for artillery fire. It was designed by the military engineer Thomas de Warluzel d'Hostel, and completed by Antonio Duce in 1764. Today, after a restoration process, it has become a center of interpretation. Located in San Juan de los Terreros.
Opening Times:
July and August, Monday-Friday, 18:00-22:00hrs
July and August, Saturday and Sunday, 10:00-13:00hrs and 18:00-22:00hrs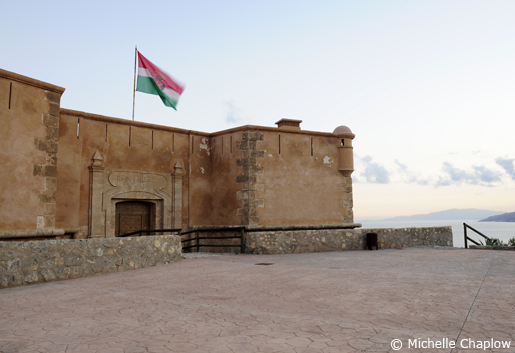 Castillo de San Juan in Pulpi.
Ermita de Santiago Apóstol
This chapel was built in 1912, in honour of Nuestra Señora de los Dolores, the current image of whom was donated to the building in 1943 by Joaquín Garrigues, Secretary of Chambers of the Supreme Court. It also has an image of Santiago Apóstol. The current temple is a new construction since the previous hermitage was in a serious state of deterioration. Located in Pozo de la Higuera.
NATURAL AREAS
Isla Negra
The Black Island is one of the many small volcanic islands that are found in the area, located off the coastal and touristic town of San Juan de los Terreros. It is also known as Isla de las Palomas (Pigeon Island) .
HOTELS
Hotels in the town of Pulpí are scarce, however, there is an array of hotels and accommodation on offer by the beach and in neighbouring San Juan de Terreros, part of the municipality of Pulpí.

Hotel Calypso
Located right on the beach in San Juan de los Terreros. It offers a private beach bar and air-conditioned rooms with free WiFi. The rooms feature a fridge and all have private bathrooms and either a private balcony or sea views.

Hotel Playa Terreros
This charming hotel is situated in a quiet area just 100 metres from the beach, in San Juan de Terreros. It offers a small outdoor pool and a rooftop terrace with sea views. It also has a restaurant serving traditional Andalucian food. 
BEACHES
Those searching for the sun and the beach will find the most attractive part of Pulpí by the coast, with quiet beaches and crystal clear waters where you can also do water sports, such as scuba diving. Among them are the beaches of Los Nardos, Entrevista, Mar Serena and Calipso and bays such as Tía Antonia, Cuartel and Cala Cerrada.
GOLF
For golfers of all abilities, the Aguilón golf Course is great fun and, with its 100 bunkers and 6 stunning lakes, every hole comes with view.
HANDICRAFTS
Those who wish to buy arts and crafts from the town should search for special embroideries and products made with straw.
GASTRONOMY
The gastronomy in Pulpí is well worth sampling. Visitors should try dishes such as arroz con habicuelas (rice with beans), ajo colorao (garlic soup), migas con tropezones (fried bread with meat), as well an array of cured meats and hams. Sweet treats include tortas de manteca (lard torts), hornazos (sweet pastries) and brazo de gitano (cream sponge roll).
FESTIVALS
Cabalgata Reyes Magos
The Three Kings procession is celebrated on the evening of 5th January.
Carnavales
Carnival is traditionally celebrated in February.
Día de la Vieja
Día de la Vieja is traditionally celebrated in the middle of lent.
Semana Santa
Holy Week, dates can vary.
Romería en Honor a Nuestra Señora de la Fuensanta
Romería en Honor a Nuestra Señora de la Fuensanta is celebrated on the first Sunday of May.
Romería en Honor a Nuestra Señora de Fátima
Romería en Honor a Nuestra Señora de Fátima is celebrated on the second Sunday of May.
Romería en Honor a Nuestra Señora del Carmen
Romería en Honor a Nuestra Señora del Carmen is celebrated on 16th July.
Fiestas de Pozo Higuera
Fiestas de Pozo Higuera is celebrated on the 25th July.
Fiestas Patronales en Honor a San Miguel Arcángel
Fiestas Patronales en Honor a San Miguel Arcángel is celebrated on the 29th September.
NEARBY PLACES
The neighbouring villages to Pulpí are Huércal Overa, Cuevas de Almanzora and the region of Murcia.
Destinations