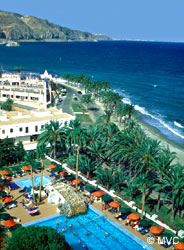 Roquetas
ROQUETAS DE MAR
Roquetas de Mar is a fishing town just 15 minutes by car from the provincial capital, Almería. It is famed not only for its fishing traditions, which are preserved today through gastronomy and annual festivals, but also as a coastal resort town. It has around 94,900 inhabitants.
Excursions from Almerimar
Book Excursions from Almerimar
HISTORY
Both the Phoenicians and Romans passed through this town, causing a chain exploitation of the resources of the area, which were later used by the Arabs. Under Roman occupation, it was called Turaniana. This population was initially located in the Ribera de la Algaida (between Roquetas and Aguadulce), but the settlement had to be relocated to its current position due to floods. More>
THINGS TO SEE
Iglesia de Nuestra Señora del Rosario
The construction of the church was completed in 1757, although it has been damaged and rebuilt several times. It is worth noting the coffered ceiling; local legend says that at the end of the construction, with a roof outstanding, an upside-down boat was suggested as an alternative. Of particular value is the church's altarpiece, which consists of seven Marian scenes, the work of the illustrious Almerian Jesús de Perceval. The church is located in Plaza de la Constitución
Castillo de Santa Ana Castle
The castle was built between the end of the sixteenth and beginning of the seventeenth centuries, and served as a refuge for the inhabitants of the municipality who lived near the port during the floods. In 1997, the Town Hall commissioned a major reconstruction of the castle to reinstate its position as an important historical monument. This restoration was completed in 2003 and consisted of work by great artists from the provincial, national and international scene. Thus, it has become a very important museum of Andalusian craft; it can be visited on Avenida Roquetas de Mar.
Opening Times:
Tuesday-Saturday, 10:00-13:00hrs and 18:00-21:00hrs
Sunday, 11:00-13:00hrs
Tel: 950 32 02 28
Plaza de Toros
The bullring offers all the facilities to host both bullfights and music concerts. It has a capacity of about 8,000 people, who are distributed between rows of seats and private boxes. It was inaugurated on July 19, 2002, and has become a staple of the province's Santa Ana Fair. The ring is located on Avenida de la Aduana.
Museo Taurino
The bullfighting museum is divided into five rooms, four consisting of the exhibition and another used as an audiovisual and press room. Its peculiar architecture encourages visitors to wind between the rooms and immerse themselves in the history of bullfighting culture. The museum can be found inside the bullring.
Opening Times:
Tuesday-Saturday, 10:00-13:00hrs and 17:00-20:00hrs
Sunday, 11:00-13:00hrs
Tel: 950 32 52 74
Faro de Santa Ana Despite serving as a lighthouse for many years, this building has recently undergone a change in purpose. Owned by the Public Company of Ports of Andalusia, the lighthouse was the subject of a restoration project funded by the European Union. Once the works were finished, the Public Company of Ports of Andalusia signed an agreement for the building to be used for cultural purposes. Since then, it has become an exhibition hall, housing exhibits throughout the year, each usually lasting for around 15 days. For this, it has two different rooms, in which paintings, sculptures, photographs and other cultural documentation are displayed. The lighthouse is located on Avenida Zzbuenavista B.
Aula del Mar The Aula del Mar is a museum that was opened as part of a wider initiative to help the town achieve a more sustainable relationship with the surrounding ocean. It is a space of approximately 50m², and features audio recordings from the sea, spaces dedicated to cetaceans, dolphin replicas and details of their passage along the local coastline, interactive games, a large panel on local birds and a space dedicated to the Posidonea and associated species recreated in an aquarium. The exhibits are paired with the latest technologies in order to provide a fun experience for visitors but also raise awareness about the ocean's ecosystems and encourage more respectful interaction with marine flora and fauna. The museum is located on Calle del Puerto.
Opening Times:
Winter: Tuesday - Saturday, 10:00-14:00hrs and 17:00-19:00hrs
Winter: Sunday and Holidays, 11:00-13:00hrs
Summer: Tuesday - Saturday, 10:00-13:00hrs and 18:00-21:00hrs
Summer: Sunday and Holidays, 11:00-13:00hrs
Tel: 663 99 99 58
Mercado de Abastos Remodeled in 2017, the municipal indoor market has 46 stalls, as well as four catering establishments. The stalls are categorized by product, starting with the bars at the entrance and the deli, butchers, fishmongers and fruit and vegetable stalls distributed between the aisles. There are also florists, bakeries and gourmet vendors. The remodeling was funded by a European grant of €717,321 from the Program of Singular Performances in Commercial Areas of Large Tourist Influence, within the Comprehensive Plan of Support to Retail Trade jointly developed by the Chamber of Spain and the Secretary of State for Commerce. Located on Carretera de Alicún.
AGUADULCE
Within the municipality of Roquetas de Mar is the famous Aguadulce, one of the first tourist resorts established in Spain in the 1960s, which has been classified as a Centre of National Tourism Interest. Both in this resort and in the wider town, visitors can find a host of hotels, at most of which sea views and recreational activities are central features.
ART GALLERIES
The works of many well-known Spanish artists, including Antoni Tàpies and Soledad Sevilla, are exhibited at the AM Gallery (Pasaje de Torre Estrella 6, Plaza de Toros, Tel: 950 171 708).
BEACHES
Local beaches around Roquetas de Mar are one of the town's main attractions. Beaches such as Las Salinas and Cerrillos are quiet and tranquil, whilst well-equipped beaches , which can sometimes be more crowded, include Aguadulce, La Bajadilla and La Romanilla.
MARINA
The marina (Puerto Deportivo) is close to fishing and sports facilities.
Latitude: 36*45'5"N - Longitude: 2*36'W
VHF: CH9 & 16
Harbour entrance width: 90m
Harbour entrance depth: 4-6m
183 Moorings, 5-15m Deep
GOLF
For visitors to Roquetas de Mar who wish to enjoy a fun afternoon of golf, the Playa Serena Golf Club is one of the flattest courses in the country and has a gorgeous landscape of 18 holes.
NATURAL AREAS
Nature lovers can visit the Punta de Entinas Sabinar Natural Park and the Cabo de Gata Natural Park, which is not far away from the town.
GASTRONOMY
Gastronomy in Roquetas de Mar centres around seafood, with rice and lobster topping the list of local specialties. Visitors should also sample fish and pasta stews and typical Andalusian-style fried fish.
FESTIVALS
Popular festivals in Roquetas de Mar include the Virgen del Carmen which, as elsewhere in Spain, offers fishermen and their descendants the opportunity to pay homage to the patron saint of their occupation, as well as Noche de San Juan, Semana Santa and Three Kings. More>
NEARBY PLACES
The neighbouring villages to Roquetas de Mar are Aguadulce, La Mojonera and Almerimar.
Destinations