CARBONERAS
Sitting in a unique and spectacular environment, Carboneras is a perfect destination for nature lovers. Visitors can enjoy the views, or practice open-air sports including hiking or scuba diving. It is set within the Nature Reserve of Cabo de Gata-Níjar, one of the most arid protected areas in Europe and the only one in Andalusia with a coast, including Los Muertos beach, meaning that the town is also popular with those who simply want to enjoy a day of sun and beach. Hidden between mountains, it has an extraordinarily straight shoreline, but it is not easy to get to; this might be what makes the beach popular with nudists. The town itself has around 7700 inhabitants.
HISTORY
Carboneras's exposed position along a straight coastline has made it a strategic point for numerous factions throughout its history; once part of the Marquis of Carpio in the sixteenth century, the guard towers and castle which we see today were constructed to defend the land, before it was later a focal point in the Moorish Rebellion. The forested headlands gave rise to its coal and esparto grass trades, which promoted the growth of a population until it finally became an independent municipality in 1813. More>
THINGS TO SEE
Castillo de San Andrés
The castle was built in 1559 to defend the coast from Berber attacks during the Moorish uprising. It is a solid, quadrangular stone construction, capable of withstanding heavy caliber artillery. It originally had three cylindrical towers, of which only two are still standing, and a large square tower with three floors in the south corner. Restored in 2013, it is owned by the town and is used for cultural activities, mainly exhibitions. It was declared an Asset of Cultural Interest on June 22, 1993, and is located on Plaza Castillo.
Opening Times:
Monday, Tuesday, Thursday - Saturday, 10:30-13:30hrs and 18:00-21:00hrs
Wednesday and Sunday, 11:30-13:30hrs and 18:00-20:00hrs
Tel: 950 13 60 52
Casa de la Música
This manor house dates to the nineteenth century and has been transformed into a theatre and music conservatory. It is currently a cultural space where performances, concerts and plays are held. Adjacent to it is the Andalusian patio, a park space with a large palm grove, which includes an open-air auditorium. This can all be found in Parque Andaluz.
Molino de Viento y Centro de Interpretación
This is the only mill in the Levante area of Almeria which has been faithfully restored to its original state, including its interior machinery, and is listed as an Asset of Cultural Interest. The Centre of Interpretation inside provides information on four elements of local agriculture; cereals, land, mills and traditional grinding methods. The mill is on Plaza Virgen del Mar.
Opening Times:
Tuesday - Sunday, 11:00-13:30hrs and 18:30-21:00hrs.
Tel: 950 13 60 52
Iglesia de San Antonio de Padua
The construction of this church was completed in 1827. By decree of the Bishopric of Almeria, in 1918, the patron saint of Carboneras was named as San Antonio de Padua. During the Spanish Civil War (1936-1939), no religious ceremonies were held in the church due to its deterioration. A reconstruction project was carried out in 1947 and the church reopened in 1951. It was restored again in 2007, and be visited on Calle Nueva.
THINGS TO SEE OUTSIDE THE VILLAGE
Most visitors to Carboneras will arrive via the coastal road. To the north, the A-5107 leads to Mojacar. Just out of the town, the coast road passes the large, incomplete Hotel Algarrobico before climbing steeply up the headland, where there are two viewpoints drivers can stop at.
Hotel Algarrobico
Hardly a tourist attraction in the manner originally intended, construction of this large hotel began in 2003 and was stopped by the national government Environment Ministry in 2005. Although it had planning permission from four government departments (local, provincial, regional, and coastal) in the 1980s, this was before the natural park in which it partially lies was established. The legal battle continued until 2016 when the supreme court declared the site non developable. It is expected that the regional government will buy the land from the developer for 2.6m € and demolish the hotel.
Driving to the south, the A-5106 leads to the pretty coastal village of Aqua Amarga. Those admiring the views should try to ignore the coal fired power station and the large Holcim cement works, both of which have their own ports. The coast road then turns slightly inland and climbs uphill. Drivers can stop and park the car to visit one of Andalusia's famous long, straight beaches, Playa de los Muertos. A footpath crosses the shrubland to a viewpoint where you can look down on the beach before clambering down to it with your beach gear. In keeping with the natural protection of the area, there are no facilities on the beach.
Mesa Roldán
Mesa Roldán is a volcanic plateau crowned by an ancient coral reef, set with fossils, which now towers 220m above sea level. This makes it a magnificent viewpoint of the coastal area of the Cabo de Gata Natural Park-Nijar and the surrounding mountains.
Torre Vigía Mesa Roldán
This monolithic horseshoe-shaped fortified tower was built in 1766 on the orders of Charles III, to protect the coast from Barbary pirates. It sits on the Mesa Roldan near the Roldán Mesa lighthouse and protects the coast between the beaches of Los Muertos and Media Naranja. Mesa Roldan and the Torre were a filming location in Game of Thrones. More>
Torre del Rayo
This lookout tower is situated on the beach of La Galera and was part of the defensive line along the coast. The turrets allowed clear sightings of enemy ships, at which point a bonfire would be lit to alert surrounding troops of the approaching threat. It was rebuilt during the Renaissance, undergoing significant modifications. At present, it is totally restored and has been declared a Monument of Cultural Interest. The tower is located north of Carboneras, off the AL-5107.
Isla de San Andrés
The island of San Andrés has an area of 70ha (0.070307 km²), with a maximum depth in its surrounding waters of 30m. It is formed of two islets (Isla Grande and Isla Chica) of volcanic origin with a great natural value. Its varied biodiversity makes it a fantastic destination for scuba diving and snorkeling. On October 1, 2003, it was declared a natural monument. More>
COUNTRYSIDE WALKS
Carboneras offers a variety of walking routes to explore its wonderful surroundings, such as Sendero Mesa Roldán, Sendero Río Alías, Sendero SL-A 165 Cueva del Pájaro las Agüillas and Sendero SL-A 166 Barranco del Hondo-Mesa Roldán.
BEACHES
Among the different beaches that define the 17km coast of Carboneras, the beach of Los Algarrobicos stands out as it was the setting for the famous film Lawrence of Arabia.
The beach of Los Barquicos is very popular among those who practice scuba diving, as is El Lancón, which is well-equipped with all the services and facilities necessary to meet the needs of even the most demanding of tourists.
Playa de los Muertos is a quintessentially long, straight Andalusian beach. A footpath crosses the shrubland to a viewpoint where you can look down on the beach before continuing down to the sand.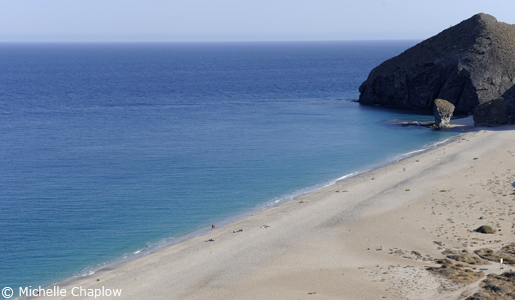 Carboneras is popular for its pristine beaches.
HANDICRAFTS
Esparto (grass weaving) is still popularly produced and exported in Carboneras.
GASTRONOMY
Carboneras has a rich and varied gastronomy, although local fish forms the centerpiece of meals. Try dishes such as gambas (local prawns), calamar en aceite (squid), parillada de pescado (variety of fish), arroz de marisco (fish and seafood rice), pinchos de cabrito o cardero (goat or lamb skewers) and tabarnero (tomato, pepper, onion and garlic stew served in a bread roll).
FESITVALS
Carboneras, like most small towns in Andalusia, marks an extensive calendar of vibrant festivals despite the town's small size. As well as national celebrations like the Three Kings procession and Holy Week, Carboneras enjoys a number of pedanía (or 'district') celebrations which honour the idiosyncracies of life in this coastal town, including Fiestas del Pescador y del Turismo (the 'festival of fishermen and tourism'), in which two of the town's principal economies are acknowledged. More>
NEARBY PLACES
The neighbouring villages to Carboneras are Níjar, Agua Amarga and Los Gallardos.
Destinations