Mesa Roldan
Mesa Roldan is a flat-topped extinct volcano, part of a massive rocky headland topped with a lighthouse and tower, between Agua Amarga village and Playa de los Muertos. It is actually in the municipal district of Carboneras town to the north.
Mighty watchtower Torre de Mesa Roldan, documented since 1497, was considered the most perilous point for Moorish invasions on the Cabo de Gata coast. The tower was rebuilt as a horseshoe-shaped fortified tower in 1766 on the orders of Charles III, to protect the coast from Barbary Pirates. The tower was originally accessed by rope-ladder to the first floor entrance.
In the early 19th century the fort was used as a makeshift lighthouse, while in the later 1800s it was transferred to Carabineros Corps (predecessors of the Guardia Civil), and in 1941 to the Guardia Civil, who used the building - partly for telecommunications, installing an antenna - until 2002.  
Roldán Mesa lighthouse
The Roldán Mesa lighthouse was inaugurated on December 31, 1863, and became electric in 1972. It is currently fully modernized and automated, leaving the characteristic of 4 flashes every 20 seconds and a range of 23 miles. It was for many years the tallest lighthouse in all of Spain, until the construction of the Torre de los Lobos lighthouse in Rodalquilar. It is currently home to a small museum of lighthouses. Located south of Carboneras, off the AL-5106.
GAME OF THRONES
Torre de Mesa Roldan was used as a filming location for Game of Thrones season six, shot in October 2015 and aired in spring 2016.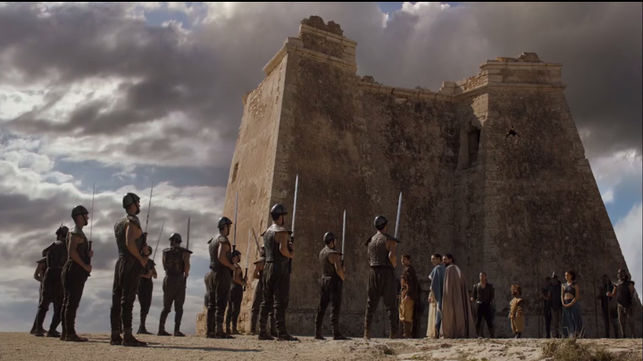 It was a fortification in Meereen (Khaleesi's city). In Game of Thrones episode 9, this location is just outside the city state of Meereen City on the Bay of Dragons. On hills outside the Meereen are pyramids where the wealthy citizens live. Following the attack on the city, Daenerys and Grey Worm meet with the slave masters to negotiate terms of surrender.
Video of Game of Thrones season 6 locations in Spain. You can see Almeria and Mesa Roldan fort featured 0:24-0:44 and 2:18 to the end.
Destinations