Andalucia.com Trans Sahara Rally 2004
Andalucia.com 2007 Rally
Sotogrande to Cape Town
Stage One Sotogrande to Takoradi , Ghana
Following the success of previous year trips andalucia.com reports on Stage One of the 2007 Rally.
The rally consist of a number of old 4x4 vehicles making the one way journey from Andalucia, Andalucia to Cape town in South Africa.
The rally will take the form of four stages.
Stage one: Sotogrande to Accra, the capital of Ghana in February 2009. The route will be Sotogrande, Rabat (Morocco), Laâyoune, Dakla (Western Sahara), Nouâdhibou (Mauritania) Nouakchott, and Bamako (Mali), Bobo (Burkina Faso), Takoradi (Ghana)
Stage two: Ghana to Camaroon.
Stage three Camaroon to Angola
Stage four: Angola to South Africa
A detailed account of the Sotogrande to Ghana stage is provided here by Paul Moody.
Andalucia.com 2006 Rally
Sotogrande to Timbuktu Rally
This record breaking trip of over 6.000 km reached the notorious outpost town of Timbuktu in eleven days only to discover as the same as the Victorian explorers and Michael Palin that "There is not much here" overstated John Cox or Cornwall on arrival. Alan Routledge of Sotogrande admitted "the worst bit was when John's cylinder head went and we had to tow him 500 km through the bush" however John recalled the his personal low was when the tow-rope snapped in the night "I was left behind for an hour and I did not know how long it would be before the others realised and came back for me".
Andalucia.com 2005 Rally
Following the success of last years trip, the Andalucia.com car taking part in the "Plymouth Dakar Challenge 2005" has successfully completed this years rally.
The rally consists of old, 2 wheel drive cars, making a one-way journey through Morocco, Western Sahara to Nouakchott in Southern Mauritania and then south through Senegal to Banjul in the Gambia where the cars are then entered in the official charity auction.
Chris Chaplow & Alan Routledge
The Andalucia.com car was lead by Alan Routledge, veteran of the Paris - Dakar who has lead several car and bike expeditions to Southern Morocco and the Sahara.
The car is promoted by Andalucia.com the leading travel website about southern Spain
.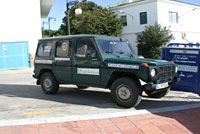 2005 Rudy´s Mercedes of 3P-Digital
ready to leave Estepona
Chris Chaplow who took part in the 2004 and 2005 trip says. "The rally is a great opportunity for anybody to adventure in the Sahara. Even though it is so close to the coast few travel there. In a team this journey is quite feasible and enjoyable."
This is not a tour nor a race, it is a group travelling together and helping each other in the event of difficulties. There is no support or backup.
A selection of photos from the 2005 trip:
Photographs from last years Sahara adventure.