Paris-Dakar Rally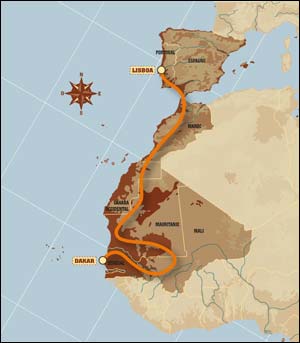 Dakar route 2008
Traditionally the Paris Dakar Rally began in Paris and crossed Andalucia to North Africa and you can read more about this below in our History of the Dakar Rally. Unfortunately, after four French tourists were murdered in Mauritania in December 2007, the event was suspended in 2008. The tragedy together with direct terrorist threats against future rallies, had the organisers looking for a new venue.
Since January 2009, the Dakar Rally has taken place in South America, starting and leaving from Buenos Aires, Argentina in a 9,000 kilometre loop. According to those in charge, the chosen course will offer all the same challenges and types of terrain that participants enjoyed on the traditional route.
History of the Dakar Rally
Each year, around new year the Paris - Dakar Rally used to bring crowds of fans to Andalucia. Cars, Motorbikes, Quads, and Trucks competed for titles in this huge media event as they travelled from Paris, down through Andalucia and then across the North Africa.
The route changed every year but the fist few days of the two week event were from Paris to Southern France, Southern France to Northern Spain and Northern Spain to North Africa usually crossing from Algeciras, Malaga or Motril. These first few days were not actually a race, with the organisers calling it a 'liaison' stage but the crowds still gathered by the road to cheer on the competitors.
MOROCCO - MAURITANIA
This leg of the event featured sands as an ideal transition to gradually get to grips with Africa. Morocco provided competitors with all types of terrain they could expect for the rest of the rally. By going a little more in-depth into the potential offered by the Moroccan desert, the scheduled specials demanded significant endurance from teams.