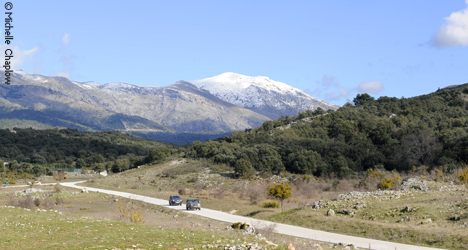 Best access to Sierra de las Nieves natural park is from the A376 Ronda to San Pedro road.
Access
The easiest way to enter the park is from the A376 San Pedro to Ronda Road, (36.660750, -5.09944). There is a reasonably surfaced road that extends about 10km to Quejigales recreation zone. The park is a very popular family and hiking day-trip from Ronda or the coast on fine winter weekends (especially after a snowfall), so the roads can get busy, and care is needed when passing oncoming vehicles on the narrow park road. Taking any of the routes, you will suddenly find yourself right off the beaten track, so be sure to stock up your car with drinking water. When there is a heavy snowfall, the park roads are closed to motor vehicles.

You can also enter the park from the village of Tolox, the village of Istan, or from the A335 just south of Monda.
Other access points are in the northeast near the villages of El Burgo and Yunquera.
Most of the roads within the park are not tarmacked. A 4x4 is the ideal form of transport, though not absolutely necessary provided you keep to the main routes and drive slowly and carefully.
See suggested routes for more detailed information