Snow on the Sierra de las Nieves
Sierra de las Nieves
The Sierra de las Nieves National Park is located in the hills behind Marbella and to the east of the Ronda-Marbella road as it winds up the mountain along hairpin bends. The park centres on Mount Torrecilla (1909m) and covers an area of 30km by 20km or 18,530 hectares. The Sierra de las Nieves, formerly a natural park, was declared a National Park in January 2021 and formalised in May 2021.
The district of the Sierra de las Nieves is bounded to the south by the western Costa del Sol, to the east by the Guadalhorce Valley, to the west by the Sierra of Ronda and to the north by the district of Guadalteba.
Apart from a few villages, which form a rural mountain community, this isolated area is largely uninhabited, and has seen very little human influence or activity, such as agricultural cultivation. For this reason, it has an unusually rich variety of indigenous flora (pine, fir, ash, chestnut, wild olive and oak trees, as well as juniper) and fauna, including mountain goat and muflon. As the name suggests, the park is sometimes snow-covered in winter.
The area was studied in the 19th century by Swiss botanist Edmond Boissier and in 1933 by Spanish botanist Luis Ceballos. In 1970 the park was declared a National Hunting Reserve, and in 1995 a UNESCO Biosphere Reserve. Activities available including mountain climbing and horse-riding.
Music Video
Entertaining and upbeat music video of Northern Soul Girl Levanna dancing dancing Northern Soul on a clear day in the Sierra de las Nieves

Song: Margie Joseph - I Can't Move No Mountains 
"Walking the Mountains of Ronda and Grazalema" by Guy Hunter Watts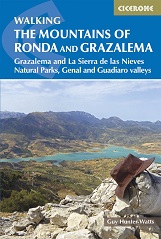 The dramatically situated town of Ronda can make a great base for a walking holiday in the mountains of Andalucía, as can any one of the picturesque 'pueblos blancos' (white villages) that nestle among the surrounding hills. This guidebook presents 32 mainly circular walks in the Ronda region, covering the town and its environs, the Natural Parks of La Sierra de Grazalema and La Sierra de las Nieves (both UNESCO biosphere reserves), and the Genal and Guadiaro Valleys.
Clear route description is illustrated with mapping, and the route summary table and 'at a glance' information boxes make it easy to choose the right walk. There is the option to buy a printed book, an eBook, or both as one deal.
Buy a copy online of Walking the Mountains of Ronda and Grazalema
Destinations